7 Amazing Radio Advertising Facts You Need Know
September 10, 2018

6
min
You need to know your chosen medium if you want to see a successful return on investments.
We've put together all the lesser known facts about radio advertising. We'll be tackling common misnomers and hot topics in an effort to give you the most actionable information on the radio as an advertising medium.

If you don't have the time to read this one right now you can click the button below to download a PDF version of this article to read whenever suits you.
1
Radio Isn't Dead or Dying. It's Booming
If you haven't already, you'll be sure to hear radio's obituary plenty of times in the next couple of years. In fact, marketers and advertisers around the world have been prophesying the end of radio as a competitive ad medium.

These claims are totally unfounded.

Q1 2018, the twilight of digital advertising days, radio is announced by the WARC to be the fastest growing ad medium in terms of ad spend. That's beating TV, internet advertising (display and social) and all others to the crown.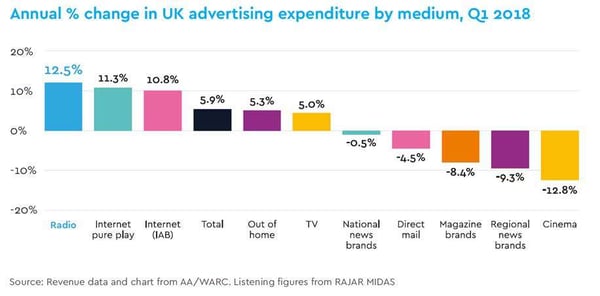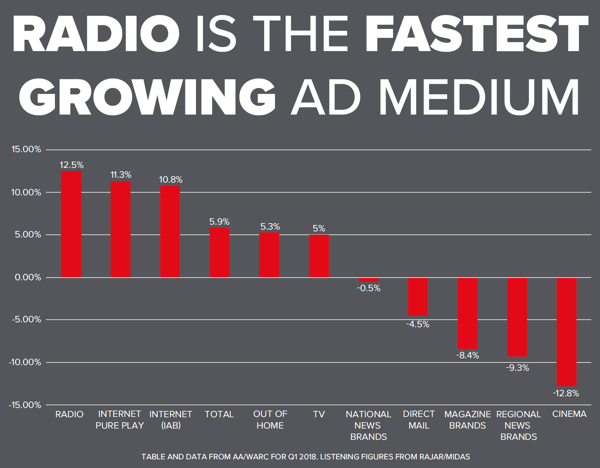 It would appear that advertisers are finally starting to see the true effectiveness of radio as a platform to develop meaningful relationships with a captive listenership and have started to reallocate their advertising budget accordingly.


2
We're Heading Towards an Audio Future
Ask Alexa to play your favourite radio station.

Ask her to wake you up with it.

Voice-enabled tech is, much like radio, booming. At any point in the day, you can ask your personal assistant anything you please. In your bedroom, kitchen, car and your palm.

According to a recent study conducted by ABI Research, 120m voice-enabled devices are set to be shipped annually by 2021. It's a tech that has been welcomed with open arms as it subscribes to a more solution-centric approach to messaging and advertising.

Slowly, we're moving toward a voice-activated future that revolves around audio, sound queues and sonic logos. Think about that for a second. How is that going to affect the way we search for items. We don't search for brands, we search for solutions. Coffee near me. Oil change near me. Add butter to my basket.

And with the news that by 2020, 30% of searches will be done without a screen and 50% of searches will be done with voice, the brands that don't make a sound won't be found. Brands should be scrambling to get their audio profiles sorted as quickly as possible so they can be on on the crest of the wave of a very competitive market.

The easiest way to do that? Start advertising on radio. Any agency worth their salt won't just be setting you up with a radio advert, they'll be building your audio brand for the audio future.
3
Radio Connects You With Hard To Reach Customers
Studies have proven that our minds naturally look for consistency in thoughts. A whole field, named Congruity Study, has been devoted to the study of this phenomenon.
According to IPA Touchpoints; 92% of listening is done while listeners are engaged in another activity. Of all media out there, audio and radio are the only mediums that are classed as 'out of focus'. This means that brands have a unique opportunity to connect with your target customers when they are subconsciously looking to align their thoughts with what they're currently engaged with.
And they'd be right to do that. According to research conducted by Differentology, brands like McDonalds, Heinz and Deliveroo saw a sales uplift of 51% when they focused on targeted their customers when they were engaged in relevant activity.
When you're stuck in traffic and a bus goes past in the bus lane that's totally free, your thinking about how much easier it would be if you were on that bus. That's when a radio ad for a local bus company plays.
Ebiquity's Re-evaluating Media report, commissioned by Radiocentre, studied the worth of different Media. It surveyed over 100 top advertising decision makers and evidence gathered from the latest studies in the UK.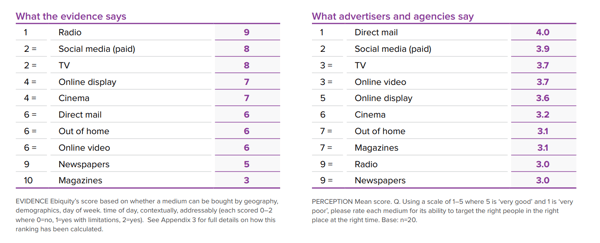 Radio also delivers touchpoints that other advertising mediums cannot deliver, like in-work advertisements.
An employer is more likely to switch on a radio at work than a TV. Likewise, in some organisations, social media is banned on desktop web browsers and internal IP addresses. If you want to connect with someone while they're at work, radio is your best option.
4
Radio Integrates Perfectly With Other Advertising Mediums
We were lucky enough to be able to attend the first ever Radio Audio Week a few months ago.

Ironically, it was eBay, the online marketplace, that spoke the most truth about offline advertising.

Gareth Jones, Marketing Manager at eBay, wanted to change the way people saw eBay. He thought eBay had evolved from the second-hand marketplace it started out as and moved more towards a reputable place to buy and sell bespoke, collector and new goods.

But how was he going to wipe out over 10 years of brand building?

A combination of radio and TV.

"A couple of years ago, 90% of what we spent in the UK would have been digital, transactional, direct response type of investment," Jones explained.

But that spend wasn't cultivating the salience they needed to start changing people's view on eBay.

"Intuitively, we knew we had to invest in traditional channels to build brand salience and get people thinking differently about eBay."

This came from consistent, targeted ads that worked in conjunction with TV campaigns. Both featuring the same music, sonic logo and voices. Slowly, over a period of 24 months, opinion started to shift and a uplift in new item sales followed.

This is a great example of how a cross-channel, integrated campaign has been used to expand associations, not just in terms of reach but also in terms of penetration.

And the evidence doesn't just stop there.

A recent analysis of radio-campaign returns from Ebiquity's ROI database reveals that creative synergies between TV and radio ads give a huge boost to return on investment. A campaign using matched scripts and audio across TV and radio ads boosted ROI by 500% compared with ads that had no match between treatments. This attests to one of radio's great advantages for advertisers – it reinforces messages from other media in a close and personal relationship with the listener.
Advice From Radiocentre:
Further evidence of the power of integration comes from 10 years of Radiogauge research, which assesses the creative effectiveness of radio campaigns against the Five 'I's: involvement, identity, impression, information and integration. Data aggregated from more than 7000 campaigns measured demonstrates that the most effective radio campaigns have consistency at their heart: of creative idea, audio branding, voiceover and music. Radiogauge continues to be used to analyse campaigns that use integrated thinking to forge creative synergies between TV and radio ads. A recent example of an ad that scored very highly was The AA's "Singing baby" campaign, which used the Ike and Tina Turner song Proud Mary as an identifier, helping it to stand out both on TV and radio.
- Lucy Barrett, Client Director, Radiocentre (Read the full article here.)
5
Listeners build strong affinity with radio stations and your brand.
Radio has universal appeal with a broad demographic reach and is listened to in a wide variety of different locations, both at home/work and on-the-go. Listeners have a strong brand affinity and a high emotional attachment with their chosen stations, which creates a positive impact on brands. Low entry costs for radio (relative to other media) help to increase both cost-efficiency and cost-effectiveness against brand metrics, footfall, and sales.

According to independent research agency Ebiquity;

"Radio delivers the lowest media cost per thousand by a distance"

Mix this with the low cost of production and you've got a recipe for cost-effective advertising.

Radiocentre, the UK radio industry trade body, argues that broadcast radio maintains a valued role in people's listening repertoire. The research found that streamed audio affects people's personal music listening, not their radio listening.

There isn't currently a global standard for radio measurement which can create issues for cross-country comparability and a multinational sell. Radio measurement data additionally lacks the speed of other competitive media such as TV and online.
6
Consistency Without The Cost
8 million adults (15+) tuned in to their selected radio stations each week in the second Quarter of 2018. The total average number of weekly hours listened to radio for this Quarter is 1.016 Billion.

On average we were listening to 20 hours of live radio every week.

Those are impressive figures, but that surely means the prices for airtime must be pretty big.

Wrong. Radio airtime is around a third of the cost of TV, helping to drive cost efficiencies.

Likewise, radio is a highly effective medium with an impressive ROI getting an average of 60p back on top of every £1 spent. (That figure changing depending on the industry – tripling to just short of £3 if you're in retail)

The universal appeal of radio means that it's well positioned to deliver mass-audiences, so can help to cost-effectively extend reach. Radio also plays a vital role in brand-building according to Radiocentre's research Radio: The Brand Multiplier.

The research demonstrates that using distinctive audio assets helps to build mental availability that can build brand likeability and distinctiveness. Creating multiple radio executions is also beneficial to associate the brand with more touchpoints in your customer's lives.
7
Contextual Conversations are Happening Right Now
Food delivery app Deliveroo implemented a programmatic dynamic digital audio campaign in London in 2017. 40,000 different versions of the ad could be created based on time of day, day of the week, listener location and music being listened to. The aim was to extend usage beyond the peak times of weekday evenings. The campaign resulted in a +52% uplift in brand recall among millennials and a +49% increase in brand engagement.