The true extent of the economic impact of the lockdown is still unclear, however commercial radio, has not only continued to provide vital public value to its 36 million listeners, but programming and output has gone from strength to strength. With a 25% increase in news bulletins across the Communicorp UK network, radio has undoubtedly supported communities and businesses throughout the UK.
Following the release of Radiocentre's 'A Force for Good' report, we break down some of the important public value that the commercial radio sector has provided to the UK.
News and information
News and information have never been more valued. With commercial media being the first port of call for the isolating public, radio has become something of significant value. A recent survey by Radiocentre revealed that since the lockdown began in March 2020, radio stations commitment to news coverage has increased both in frequency and duration.
With more news available to audiences, it has resulted in additional coverage as well as special reporting of government daily briefings and breaking news flashes.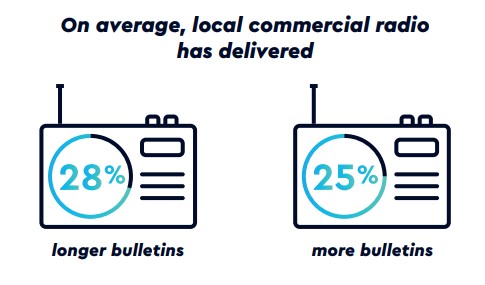 Source: https://www.radiocentre.org/wp-content/uploads/2020/07/Commercial-radio-A-force-for-good-July-2020-2.pdf
Radio is consistently found to be among the most trusted sources of news and information. Recent research found that 77% of audiences trust radio more than any other media, consistent with studies taken by Ofcom and the European Commission. Commercial radio's on-air offering has been complemented by online news coverage, video clips and social media, bringing good quality, reputable information online.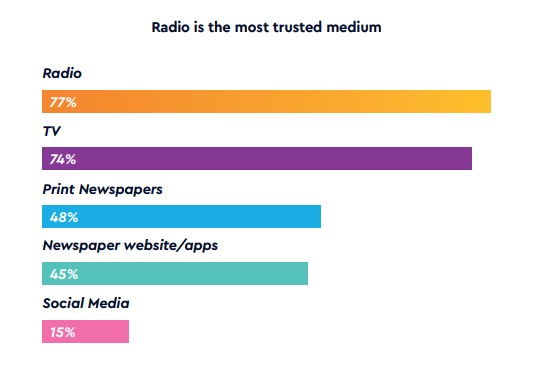 Source: https://www.radiocentre.org/wp-content/uploads/2020/07/Commercial-radio-A-force-for-good-July-2020-2.pdf
Audience
Every week, Communicorp UK stations reach 3.2 million listeners for an average of 13 hours, delivering news and entertainment across the country.
Since the lockdown, many listeners have changed where they traditionally listen to radio, shifting from in-car, commuter listening to online or digital radio at home, with a 10-15% increase of listening via the internet. The increase in new listeners has been largely down to listeners tuning in whilst working from home, making up 45% of new audiences with a further 32% of key worker listening.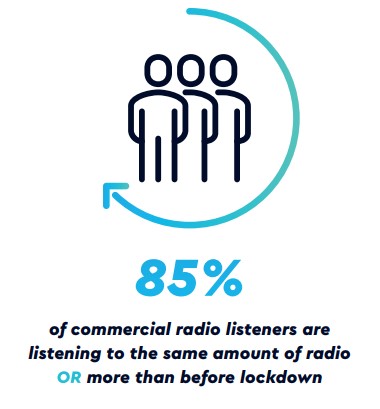 Source: https://www.radiocentre.org/wp-content/uploads/2020/07/Commercial-radio-A-force-for-good-July-2020-2.pdf
Listener Impact and Public Value
The recent spike in radio listening demonstrates the important role commercial radio plays in listeners lives. A survey from DRG found 90% of people listening to radio do so to keep them in touch with the outside world, whilst a further 77% stated that it makes them feel happy.
Communicorp UK has created additional programming throughout the lockdown period to support local listeners and businesses alike. Heart's Hometown Heroes was launched, showcasing short audio blogs from local key workers as well as XS Manchester broadcasting a daily 3 minute speech comedy drama from the empty streets of the city.
We have supported the broadcasting of useful messaging to our audience by speaking to local key figures and businesses throughout lockdown. Heart Hertfordshire's Drivetime presenter, John Darin, has delivered over 40 interviews since March with key stakeholders within Hertfordshire including; Robert Voss CBE, Her Majesty's Lord-Lieutenant and the resilience team from Hertfordshire County Council.
Although often overlooked, the contribution to public value broadcasting that radio provides is vast and with 36 million listeners tuning in every week, make sure you are part of it. If you would like to find out more about how radio can resonate with your audience, get in touch below.