As Brexit uncertainty is out of our control and we wait to see what our country's fate will be, it's fair to say, people are feeling a little bit wobbly. In times like these, it's important to get even closer to your employees, offer reassurance and empowerment to control their career, development and culture.
So, how do we empower our employees?
Get the hygiene factors right. Reward, stability, clarity of goals, purpose and great communication.
We've just completed our company wide Personal Best plans, agreeing individual business, career, learning and life goals for every employee for the year ahead. With this line of sight, we can all be assured that personal success is within reach and achievable with the right belief, attitude and commitment to performance.
Next comes the tools, training and autonomy to do what we as individual and teams do best - for us that's ideas, relationships and results. Our special ingredient to empowerment is giving everyone who works with us a voice. A say in the way we do things. We ask, we listen and we agree together how we can make our company culture the best it can be to give everyone a bit of CCUK career gold.
This is our recipe for high employee engagement. Like most recipes, we evaluate and improve on a regular basis, but the results so far are OUTSTANDING.
Culture Champions
There is no one more engaged than our Culture Champions. Based in each of our locations from Glasgow to Watford, they fly the flag for culture, believe in the direction and purpose of our business and act in the best interests of our people. True investors!
This year, we've already got together to talk about the top priorities in each location that will make a difference to our teams, listeners, customers and communities. Collaboration and creativity is in our blood, so sharing ideas, initiatives and working together for maximum impact was the theme and the group are excited about putting our MAD (Make A Difference) Money to good use this year. Culture Champions drive local plans within monthly team meetings, keeping culture on the agenda and getting people on board to make the good stuff happen.
Some of our top company wide initiatives include; well-being, learning, podcasts and charity work. Our North West office is our biggest team and these Culture Champions work hard on ensuring great communication, celebrating successes, random acts of kindness and well-being sessions. Their hard work has definitely paid off as they recently achieved a position in the Top 75 Best Companies To Work For In The North West 2019 list for outstanding levels of employee engagement.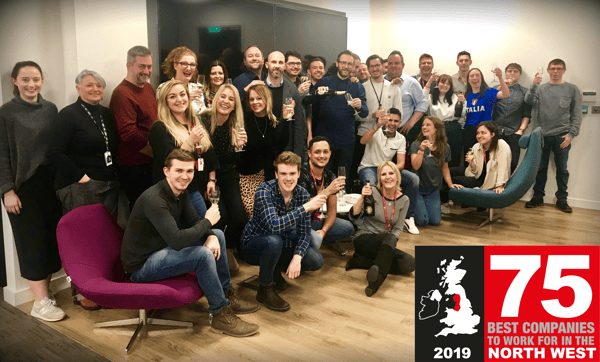 At CCUK, culture never takes a back seat. Commitment starts from the top but is driven by our people, the heart and soul of our business.