Communicorp UK welcomes two new Campaign Analysts to the Digital Team as we continue to grow the smartest, boldest and most engaging teams in our industry.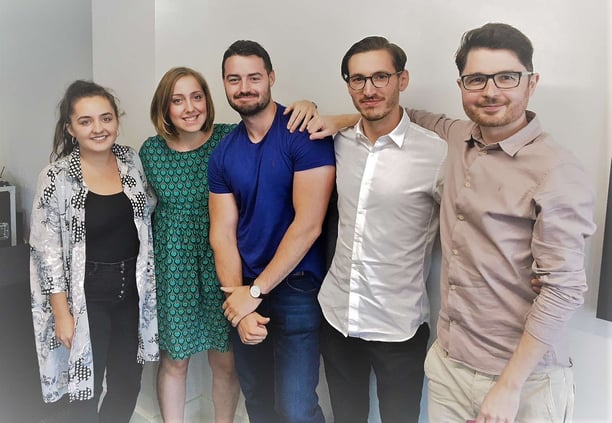 Picture: From Left to Right; Beth Plowright, Hannah Cook, Damien Bestley, Alex Lawley and Ciaran Howley.
Beth Plowright and Alex Lawley will add strength and resource to the Digital team by working with our customers across the UK analysing, planning and optimising their campaigns, delivering the best insight and improving the return on both radio and digital investment.
Ciaran Howley is our Group Head of Digital and as well as leading the department day to day his mission is to develop and grow our digital team to be the best in the industry. He said: "Being able to upsize the Digital team is a fantastic step forward. Investing in Beth and Alex shows the commitment Communicorp UK has to our customers and all of our Account Management Team will be able to tap into their talent to make sure that we're delivering measurable results from the campaigns they create."
He added: "With the pace of change in the market, it's difficult for customers to truly understand their full marketing mix and attribute success to the right channels. Either they haven't the resource to hire internal expertise among the range of pressures on their business or they aren't being given clarity by their agencies and direct media providers and that's why we've invested in analysts to help our customers unpick this."
Hannah Cook, our Campaign Manager, plays a pivotal role in the team working across all of our digital campaigns across our stations. She is crucial to the success of our commercial teams by managing design and digital workflow as well as collaborating with the best creative talent in the UK.
Digital Designer, Damien Bestley, works with our Create Teams right across the UK on a wide range of projects including digital display and online win pages ensuring we do ideas better than anyone else. Damien has grown with the company and has built key relationships across programming, marketing and branded content.
Adding to the Digital team allows us to ensure that our people and customers have every opportunity to reach new customers by creating a digital marketing strategy that works for them.