Promoting a brand in the right way to reach the right audience is super important and the same rule applies to you. Whether you're a freelance presenter or have a full-time sales role, it's important to use social media effectively to market your personal and professional brand.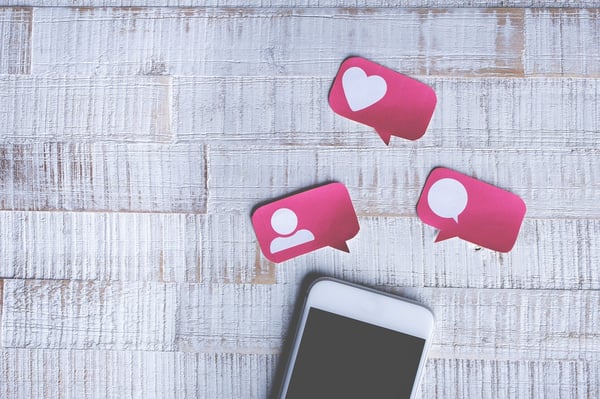 What's in a brand?
Branding (if you haven't worked on creating a brand yet) or rebranding (if you're considering a career shift), means deciding what professional path you're on and tailoring your credentials, expertise, and what's visible to network connections and prospective employees, to match that brand.
Your brand, besides showing what you're capable of doing and where you're heading, will show an employer what you can bring to the table and how you will add value to their company.
How To Get Started
The first step in creating or reinventing your brand is to determine what you want that brand to represent. What type of job would you love to have? Would you like a new job in a similar role or the same job in a different industry? If so, that's a relatively easy brand update. If you're looking for a career change, you'll need to invest more time and energy into rebranding yourself.
Check yourself out. Google yourself and check the results before you start making any changes. You will want to see how the current information available about you reflects your professional persona, and ensure that it clearly reflects where you are in your career and where you want to go to next. When you are doing this, try to remember to take the view of a hiring manager.
Make a plan. It's important to figure out how you're going to get to where you want to be. Do you want a new job? Do you need new skills or certifications? Make a list of what you need to do before you get started in promoting your professional brand.
Your Professional Brand Statement
A branding statement is a short and catchy statement that encompasses what makes you a strong candidate for a job. Writing one can help you to capture the essence of what you want to accomplish in the next phase of your career.
Adding a Professional Branding Statement To Your CV
Adding a branding statement to your CV is a way to show employers how you can add value to a company if you were to get the job. Don't just use the same statement for every job you apply to, tweak it so that if reflects the skills the recruiter is looking for. Your branding statement should always be honest and a true reflection of who you are and what you can bring to the table.
Want to know how to create a stand-out sales CV?
Your Professional Brand Online
According to Brighton UK, almost 91% of employers admitted that they screen prospective employees via social media.
When you're looking for a new job or positioning yourself for career growth, it's important to have an online presence where you can showcase your skills and experience. Your online professional profiles will also help you connect with contacts who can expedite your job search and assist you in moving up the career ladder.
Here are some websites where you should create an online profile. Make sure you actively manage your profiles so that they stay up-to-date. When you are consistent across your profiles, using strong themes and photos, you will be able to build a strong professional brand.
LinkedIn Profile
LinkedIn is 'the' site for professional networking. We actively use LinkedIn to source candidates and it's the best resource for building and managing your career network.
Top tips: Update your profile regularly, include your employment history, education, skills, and examples of projects you've worked on. Engage with other users and spend time growing your network. The more connections you have, the greater your visibility.
Professional Facebook Page
Creating a Facebook page is a way to differentiate the professional from the personal you. Set up a page to share your expertise, industry news, and current events with others. This will allow you to keep your personal life separate from what you want to share with prospective employers.
Twitter Profile
Twitter is a terrific way to establish yourself as an expert in your industry.
Top tips: Tweet about what's happening in your industry—news, events, and advice. Also, be sure to retweet advice from industry leaders. Take the time to follow (and retweet) companies you're interested in. You may be able to get new job postings before they are listed elsewhere online.
Personal Website or Blog
A blog or personal website that is related to your career interests is a good place to highlight your expertise and an ideal way to feature your credentials. You can provide information on what you have to offer an employer, link to your online social profiles, and share your contact details with prospective employers and networking contacts. Do be careful to keep it relevant to your career interests, if you're writing it while job searching.
In today's increasingly digital world, a professional brand is no longer a 'nice-to-have'; it's expected. Check back next week for Part 2 which includes all the top tips you need to build your professional brand online.
part 2
Top Tips For Building Your Professional Brand Online


1. Be You
We're starting with the most important one first. One of the worst mistakes to make on social media is not representing your true personality. Having a profile(s) which really reflects your character rather than a false persona is one way of letting prospective employers get to know you on a more personal level. Be careful! It's important to be mindful of what you are liking and sharing because that will reflect your own views and values.


2. Seek relationships, not just followers
Building strong relationships on the right networks is one of the easiest things you can do on social media. The great thing is that you can do this with anyone, anywhere, in any industry. Forming relationships means interacting in the right way.

Here's some ideas:

- Always tag the people you reference in your social media posts
- Answer people's questions
- Reply to people who tag you or share your content, even if it's just to say thank you!
- Less likes and more actions. Start more conversations by replying with a comment or question

By following just a few of these steps, you could be opening doors to new relationships and new opportunities.


3. Keep your finger on the pulse
Keep up to date with any news or developments in your industry to ensure you are always reactive and up to speed on what's happening by reading industry publications, blogs and websites. You might find that they provide you with some conversation starters on LinkedIn and discussion points for when you get to interview stage.


4. Get recommended
LinkedIn is a good tool to add value to your CV and bring it to life. A great feature is recommendations – comments made by other members to recognise a present or past colleague. Comments made by other members to recognise their past or present colleagues for their skills, talent, work ethic and experience.

Just finished work experience? Request for a recommendation through LinkedIn. This will add credibility to your profile when potential employers screen you for future roles.


5. Join the right groups
Facebook and LinkedIn both have plenty of groups focused on topics or industries. Take some time to find groups that line up with your dream media role, then you will be able to learn from new connections and keep up to date with your industry. Use these groups to jump into discussions.


Building your professional brand isn't a one shot deal. It takes time for you to build a solid presence and should be an ongoing endeavor. Keep your profiles up-to-date, stay in touch with your contacts, build and maintain your network, and work on building your brand on a regular basis.