How can Digital out of Home supercharge your next campaign?
Research has found that Out of Home reaches 98% of the UK population at least once a week (Outsmart). With such a vast reach opportunity it makes sense to consider how Out of Home advertising could be incorporated into your marketing strategy.
Why not download our Digital Out of Home guide.
Out of Home advertising is one of the oldest forms of advertising but don't let its age fool you it still packs a punch, with the incorporation of digital elements leading the medium into the future.
Digital out of Home has seen rapid growth due to the versatility of the medium. The power to change content dynamically based on data such as who is looking, how many people are looking or the age of the lookers, gives DOOH the opportunity to make messages contextual and relevant. Combine this with the wide reach of an already well-established network of OOH and DOOH signage and you've got yourself a formula for advertising success.
What is Digital Out of Home and why should it be on your radar?
Digital Out of Home advertising is an interactive strategy. It offers you the ability to create eye-catching campaigns and engage with your audience in a way no other media can. The medium's effectiveness comes from its ability to capture the public's attention, as well as reach those who are overlooked by traditional media.
Did you know?

DOOH allows brands to connect with their audiences at relevant moments. Gone are the days of one shape fits all content. You need advertising media that's dynamic, allowing you to change content depending on who is looking, how long they're looking and when they're looking. New remote content management provides a programmatic approach to outdoor targeting, delivering responsive content to your audience.
Not only that but Digital Out of Home offers the reach of traditional Out of Home advertising but with digital insights. Footfall and traffic tracking can help you gain an understanding of who is seeing your ad and for how long to better position yourself. Facial detection technology helps you unlock valuable demographic insights. The technology breaks 'watchers' down into distinctive demographic brackets.
Total watchers
Dwell time
Engagement rates
Measurement is one of the main advantages digital brought to the OOH advertising medium, and with location and time data, advertisers now have the ability to track consumer movement in the real world. Since in-store visitation is a critical KPI for most retailers, DOOH can have a clear impact if integrated strategically into a marketing plan.
Digital Out of Home products offer a full suite reporting software that measures in real-time.
Combining DOOH with other mediums:
Studies have shown that DOOH can deliver positive uplift as part of an omnichannel campaign. The medium can help boost search traffic, website visits and social media mentions, showing when combined with other mediums such as online advertising, DOOH can increase the success of your campaign (Exchange Wire, 2021). Interactive elements such as QR scanning and 360-degree video allows consumers to become immersed in your ad and leave a lasting impact.

With growing concerns around online privacy and data collection, DOOH is a great way to engage with your audience without feeling intrusive. DOOH inspires action in consumers and encourages your audience to engage with your campaign on other channels such as your online digital advertising (The Neuron, 2021).
What next?
Our digital products are a fantastic way of getting important messaging out there in an unexpected way. iVans and iWalkers are the perfect way to make a bold statement in high footfall locations. Our built-in footfall and demographic tracking will build a picture of your reach and demonstrate the success of your campaign in delivering these targeted messages
Our iVans and iWalkers will ensure your message is seen by the right people at the time, grab the public's attention and give you the ability to be reactive to change. All of which will help drive a successful messaging campaign.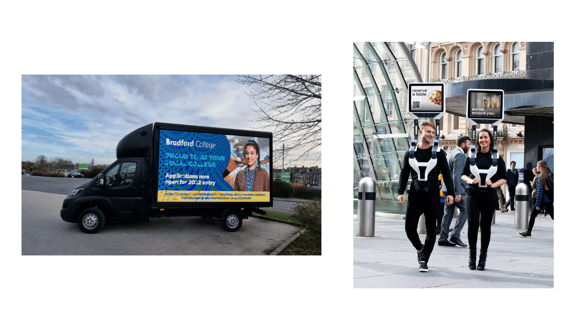 To start your Digital out of Home journey, get in touch today!