The second ever Radio Audio Week in upon us.
After having the pleasure of attending last years, seminal event, we've decided to take stock of everything that radio provides for our clients and, during the week, we'll be laying out the 'Radio Roadmap' describing exactly what radio advertisers can expect from radio.
First up, we're talking reach. One of the three key components (as outlined by the IPA's Les and Peter Binet) needed in a brand building strategy.
Reach
Commercial Radio reaches almost 36 Million adult listeners (15+) every week.
If you include non-commercial radio stations that figure goes up to 48.4 Million adult listeners (15+) every week.
The richest data we have about radio campaign planning is from the ROI Multiplier which shows that generating maximum weekly reach is the best way to optimise radio ROI.
In this study when weekly reach data was modelled against sales uplifts from radio, the results demonstrated significantly improved returns at the higher coverage levels and support optimising weekly coverage beyond the 40% limit of the dataset. It challenges the way that agencies have traditionally planned radio as "the frequency medium", and suggests that generating maximum weekly reach for a radio plan is the best way to attain optimum radio effectiveness.
RELEVANCE AT SCALE
Of course, we all know that reach alone isn't enough. It's the relevance comes with reach that really drives ROI.
Until now, we've been thinking about what the demographic characteristics of a person can tell us about who that person is and what they might purchase; for instance, if they live in a certain area, are of a certain age and do a certain job, we might be able to deduce that they like foreign holidays. However, this is simply a "propensity", meaning they are twice as likely to engage with foreign holidays, based on results modelled from a survey base, measured in tens of thousands.
Now, with new data sets such as social data, we already know that certain people like foreign holidays before we've even tried to figure out where they live or what else they do. By adding that information, we can then complete the picture on who a customer is, how best to communicate with them and what channel to use to do so.
In short, instead of targeting using demographics, we need to target using what actually matters: people's passions, motivations and mindsets. We need to target like radio has been since its inception - based off interest, passion and love.
"Our analysis shows that radio is the most flexible medium as it can be used to target audiences by geography, demographics, context, time of day, day of week and, to a more limited extent, addressably for listeners on connected devices"
-Re-Evaluating Media, Ebiquity

Different stations carry different interests and, as a result, different audiences. Going one step further, the shows on those stations specialise even more - with certain presenters and personalities garnering niche interests and passions.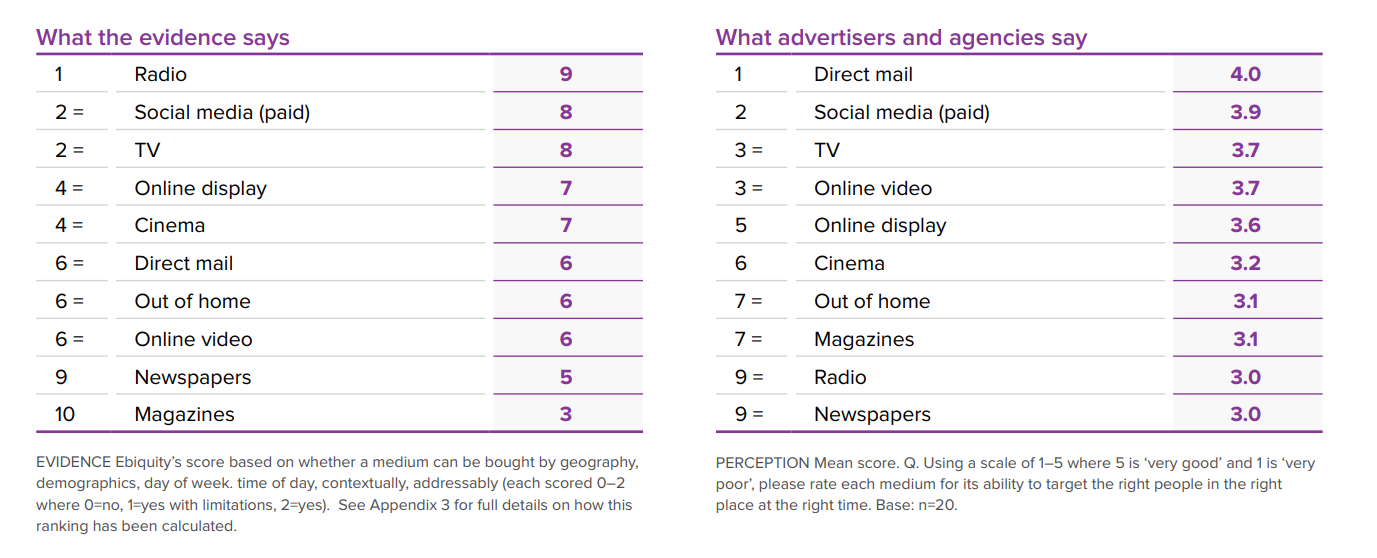 mAKING THE mOST OF rADIO'S rEACH
According to IPA Touchpoints; 92% of listening is done while listeners are engaged in another activity.
And if you need to see results, look no further than research conducted by Differentology, brands like McDonalds, Heinz and Deliveroo saw a sales uplift of 51% when they focused on targeted their customers when they were engaged in relevant activities.
"The key to getting people to change their behaviour sometimes lies with the smallest details of their immediate situation. The power of context says that human beings are a lot more sensitive to their environment than they may seem."
Malcolm Gladwell, The Tipping Point.
We've seen great results from advertisers who focus their radio creative on context while maintaining the high frequency and reach that makes a brand building campaign.
Here's the be all and end all of situational context: make your customers feel like the ad they're being served is built specifically for that very moment they're experiencing it in.
The most obvious way this is being done today is through social media. Just look at some of these tweets that leverage current events to really get the most out of situational context.
For more traditional media, like radio, this takes a less specific perspective but is equally as effective. Radio leverages pain points that come along with the touchpoints that attract the most listeners.
One of the best examples of this is morning drive time, where radio generally attracts the most listeners. Here, in this moment, you have a captive audience. You know what they're doing: driving sat behind another car with their handbrake on. You know how they're feeling: bored.
Some of the most successful radio campaigns to date have taken this insight and used it in a variety of different ways. We all must've heard of Autoglass repair, Autoglass replace. Well they used this touchpoint perfectly. They ran the message home while their customers could do nothing but stare at their windscreen. Cracks or not, you were thinking about windscreen repair. Needless to say they saw massive results almost immediately and also went down in radio advertising history for the most recognisable jingle.
Greater access
Unsurprisingly, more services and greater availability is leading to an increase in overall audio listening. As of Spring 2018, 96% of adults listen to some form of audio entertainment for an average of 26.6 hours per week. IPA's Touchpoints research highlights how audio listening currently accounts for 18% of all time spent with media.
Radiocentre's research project Audio Now explored the position of different audio services in people's lives today. The study established that the demand for audio is increasing due to the pressure of modern life, with people using audio to help them cope. But audio doesn't just fulfil one need: the research identified six different need-states where audio played a role.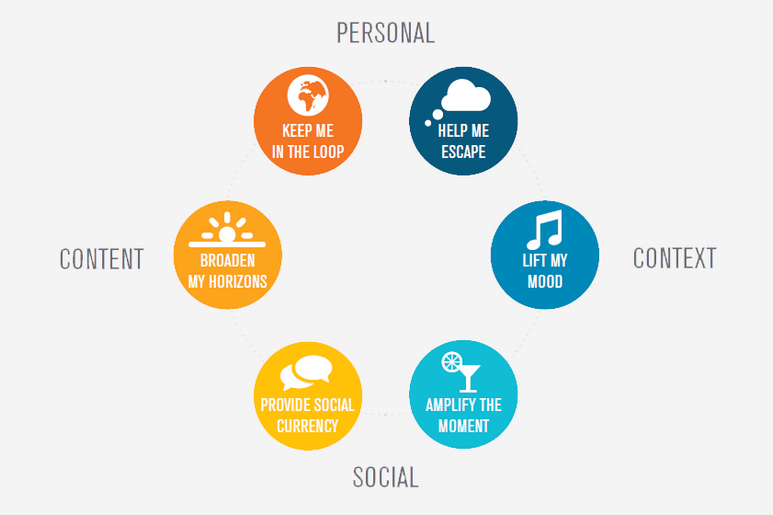 But with the introduction and proliferation of on-demand audio services like Spotify, Apple Music or Amazon, questions have been raised about Radio's future. Despite these questions, on-demand audio has become the yin to live radio's yang.
The different characteristics of live radio and on-demand audio mean that they are suited to different need-states and play complementary roles in the listener's life.
Live radio is unique because it offers human voice and human choice and retains the ability to surprise. Radio also connects us to the outside world – both by keeping us in the loop and by providing a reason to talk to the people around us. What makes on-demand audio services different is the potential to listen – at least in theory – to anything. It offers control and instant gratification and the ability for a more immersive, focused music experience. While radio can help people feel connected to the wider world, on-demand help connects them to their world: be it friends with similar tastes or people they share playlists with.
Radio Audio Week 2019
Radio Audio Week is a cross-industry initiative celebrating the best of UK radio and audio across 6 jam-packed days of conferences, seminars and network events.
With radio's record breaking audience, the coming of age of podcasts and the breakout success of voice technology - we welcome you to the week of the audio revolution.