Radio and digital advertising go together like wine and cheese. With digital activities like social media and listening being both quite habitual, you can appreciate why advertisers turn to radio when they need to drive traffic online.
In this handy guide you'll find all the times that radio, through on air promotions or on air activities, had a significant impact on digital search volumes and engagement.
Maybe you'll even find some inspiration for your own cross-channel advertising...
Just pick an event, sponsorship or promotion from the section below to learn about how it broke the internet.

Public Health England/NHS - Stoptober
Launching in October of 2012 and airing across UK radio networks from September, Stoptober was the first 'mass' initiative by Public Health England.
The campaign was primarily TV and radio advertising, but also featured a daily messaging service (direct response) and experiential (roadshows around the country). Each with the call to action to drive the users towards a Stoptober app and the Facebook page.
The brief was based around the sobering fact that quitting is at it's most difficult when the smokers feel they're alone. Public Health England took the decision to make this initiative a social and collective experience to start to combat the stigma.
With that in mind it makes perfect sense that they chose to use Radio as it's reach medium that has the right level of engagement and activation to direct traffic online. Radio strikes the perfect balance between those short and long term metrics.
This seminal Stoptober campaign is a great example of showing how radio works across channels for both activation (sign ups to the Stoptober app) and brand (use of Stoptober Facebook group and online searches).

The Creative
The creative featured real people sharing real reasons to stop smoking, tapping into the personal side to listening to the radio. It also used the keyword 'Stoptober' for the call to action which, when used so clearly and with such good instruction, started to drive the traffic they were looking for.
As you can see from the image above, search interest peaked each and every time the radio creative aired, proving that radio can and will drive major traffic across offline and online channels.
This can in part be attributed to the synergy of brand communications and direct activation and enablement. Brand communications on radio create enduring memory structures that increase the base level of demand. Sales activation triggers these memories and converts them efficiently into immediate sales, or in this case, app downloads and website visits.
Binet and Fields's latest analysis of the IPA Databank from October 2018 highlights the importance of achieving both brand AND activation effects – campaigns that do both achieve 60% more large business effects than those that just focus on activation.
The synergy between Stoptober's Radio and TV campaigns really helped to drive ROI.
Radiocentre effectiveness research has always indicated that creative integration, especially with TV, is synonymous with improved effects in terms of measures such as awareness and consideration but this demonstrates how vital synergy is in delivering significant improvements in campaign ROI.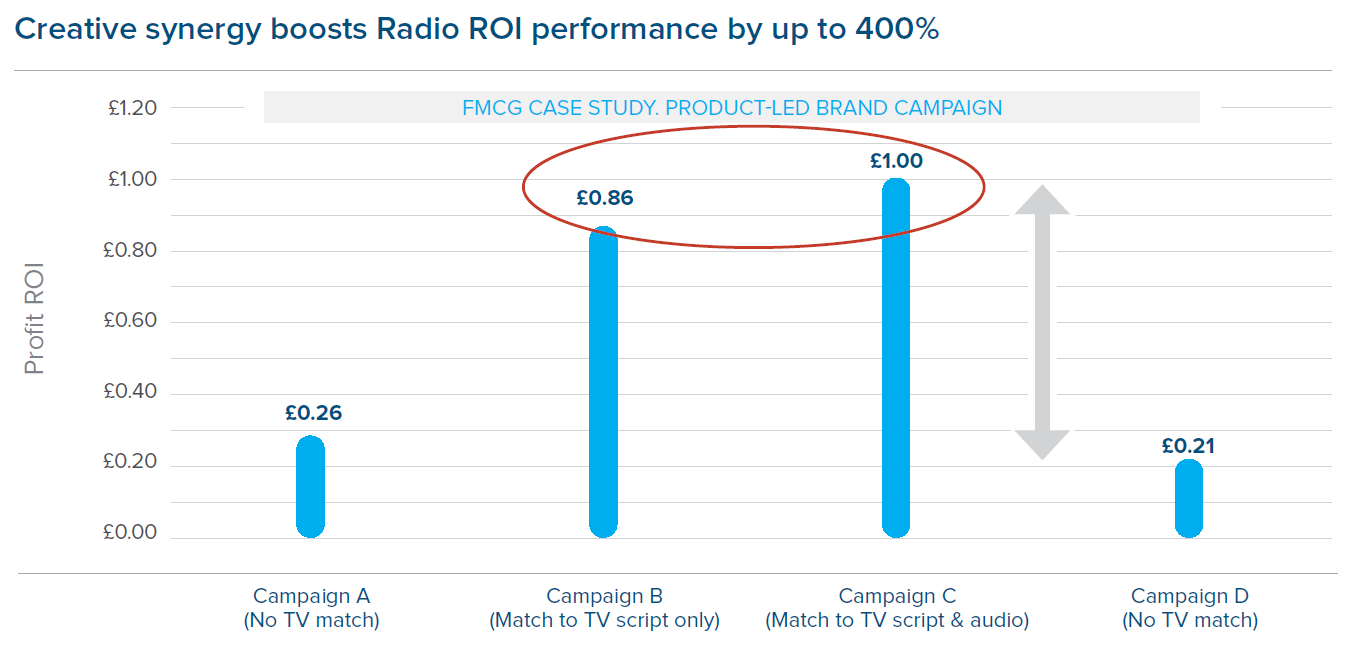 Morrisons - Fuel Britannia
What were fuel prices like back in 2011? Regardless, the Morrisons' Fuel Britannia campaign was a big hit with it's already hyper loyal following.
Although not including a clear call to action that would send listeners online, this campaign proves that people will use their search engines for more than just purchasing. They'll use it to research, to share and to save.
This on-air promotion subsequently drove major online traffic as people Googled for more information before hitting the road.
What Happened?
Towards the end of 2007, fuel prices exceeded £1 per litre with a two-pence rise in fuel tax in October, resulting in the highest diesel prices and the fourth highest for petrol in Europe.
This set the stage for a very bumpy 2011/2012 as UNITE threatened strike action with it's fuel tanker drivers.
As a result, panic buying of fuel emerged.
Enter Morrisons with a very timely promotion that captured the nation.

The Creative
In a similar vein to Stoptober, Morrisions' creative was consumer led featuring real people with very real concerns over the price of fuel.
As you can see from the image above, search interest peaked each and every time the radio creative aired, proving that radio can and will drive major traffic across offline and online channels.
This campaign in particular took a strong focus on context, delivering the right kind of promotion to the right people, at the right time. And, now this is where radio comes into play, in the right places.
According to the latest RAJAR figures, radio delivers the largest share of commuters out of all advertising figures. It makes perfect sense that Morrisons would want to advertise their fuel related campaigns on radio.
Delivering the Best of the Most
Getting true advertising effectiveness starts with knowing who your customers are and how you can best approach them. Using national and regional advertising methods can result in a lot of wastage.
It's important you get your targeting right and thankfully radio has
Reaching the most receptive of any audience isn't an easy prospect, it's been that way for a long time.
Back in the 50's people were targeted based on their job role. In the 80s it was about where they lived. In the 90s, we targeted based on what they bought. These insights were gained through hard fought censuses or surveys. Either way, they were static and didn't reflect the lives we lead.
Until now, we've been thinking about what the demographic characteristics of a person can tell us about who that person is and what they might purchase; for instance, if they live in a certain area, are of a certain age and do a certain job, we might be able to deduce that they like foreign holidays. However, this is simply a "propensity", meaning they are twice as likely to engage with foreign holidays, based on results modelled from a survey base, measured in tens of thousands.
Now, with new data sets such as social data, we already know that certain people like foreign holidays before we've even tried to figure out where they live or what else they do. By adding that information, we can then complete the picture on who a customer is, how best to communicate with them and what channel to use to do so.
In short, instead of targeting using demographics, we need to target using what actually matters: people's passions, motivations and mindsets. We need to target like radio has been since its inception - based off interest, passion and love.
"Our analysis shows that radio is the most flexible medium as it can be used to target audiences by geography, demographics, context, time of day, day of week and, to a more limited extent, addressably for listeners on connected devices"
-Re-Evaluating Media, Ebiquity

Different stations carry different interests and, as a result, different audiences. Going one step further, the shows on those stations specialise even more - with certain presenters and personalities garnering niche interests and passions.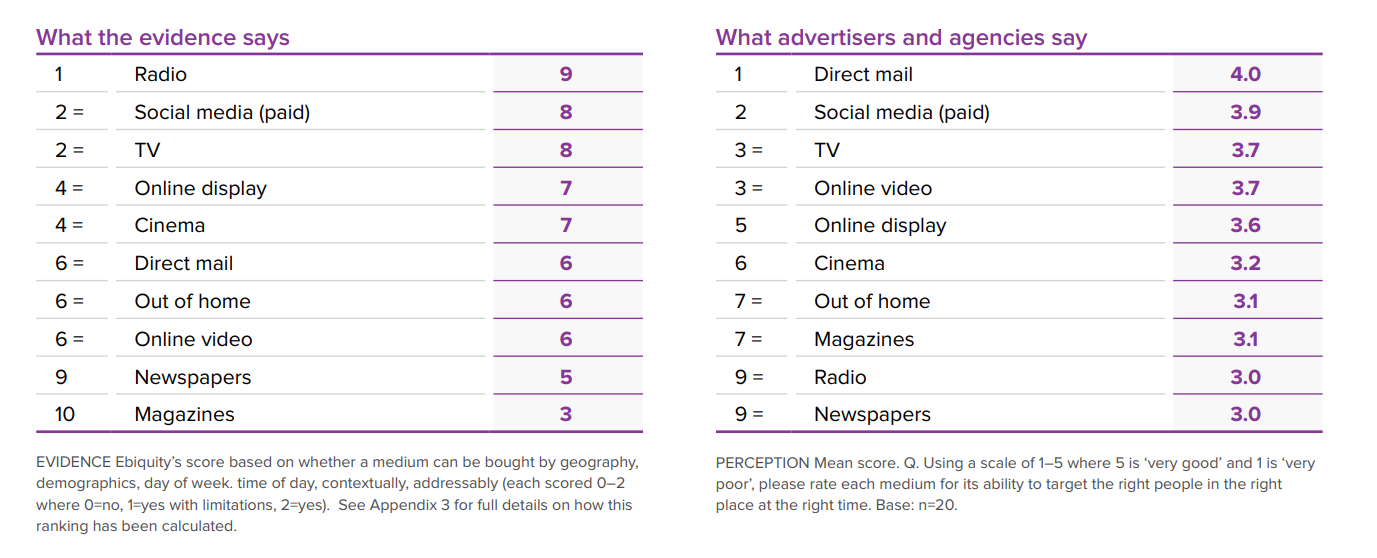 Context
So you're a model parent, right?
You go to all your child's major life events: birthdays, graduation, ballet class, wedding, everything. But all you do when you get there is sit in the corner, making no effort, wondering why no one wants to talk to you.
Sometimes turning up just isn't enough. Being active in a channel doesn't mean that people are going to flock to your doorstep and hold open their wallets for you.
No, simply reaching your customers isn't enough. You need creative synergy, integration and, most importantly, advertising context.
Because according to IPA Touchpoints; 92% of listening is done while listeners are engaged in another activity.
And if you need to see results, look no further than research conducted by Differentology, brands like McDonalds, Heinz and Deliveroo saw a sales uplift of 51% when they focused on targeted their customers when they were engaged in relevant activities.
"The key to getting people to change their behaviour sometimes lies with the smallest details of their immediate situation. The power of context says that human beings are a lot more sensitive to their environment than they may seem."
Malcolm Gladwell, The Tipping Point.
Before discussing how best to use context and which advertising mediums offer it, let's go through the types of context.

Intent Context
Different times of the day carry different customer intents.
While your customers are driving to work, they're looking to fill empty space.
While they're at work, they're focused. When they're home, they're looking to unwind.
This means that you need to change your advertising message to suit the intents of your customers.
If for example we go back to the driving to work scenario, hearing a radio advert with witty creative and entertaining characters, it feels like you're being brought into a conversation and not being subjected to professionally produced branded content.
Advice:
Getting intent right means that you need to actually experience your ad as a user would. It's not enough to put a bunch of marketers together in a conference room and go through the ad you created. You need to feel the ad as a user would. This means experiencing your ad in the proper environment.
Listen to it in your car, while you're working. Immerse yourself before you ask your customers to.
Platform Context
Just how different times of the day can carry different values, so to can the platform you actually choose to advertise on.
This is something most advertisers consider without even realising.
The first wave of TV adverts consisted of radio presenters reading a script to microphones. Essentially it was a filmed reading of a radio advert.
What would your boss say to you if you pitched that idea?
Taking a radio advert and putting it on TV (and vice versa) is obviously not the right way to go about advertising. Why? Well because there are major, fundamental differences between platforms.
But with the amount of YouTube pre-roll ads being ripped straight from TV, it would appear that marketers haven't learned the lesson. Likewise with radio ads being copy and pasted straight into your favourite podcast.
Or perhaps it's more appropriate to say that marketers haven't taken the next lesson. People are consuming media differently.
Some platforms are incredibly dynamic, they can be viewed anywhere, at anytime. So you need to make sure that you're either providing a message relevant to all the different touchpoints, or you're picking the right mediums.
Situational Context
Here's the be all and end all of situational context: make your customers feel like the ad they're being served is built specifically for that very moment they're experiencing it in.
The most obvious way this is being done today is through social media. Just look at some of these tweets that leverage current events to really get the most out of situational context.
Like Wall's response to the heatwave that hit the UK in early 2018.
For more traditional media, like radio, this takes a less specific perspective but is equally as effective. Radio leverages pain points that come along with the touchpoints that attract the most listeners.
One of the best examples of this is morning drive time, where radio generally attracts the most listeners. Here, in this moment, you have a captive audience. You know what they're doing: driving sat behind another car with their handbrake on. You know how they're feeling: bored.
Some of the most successful radio campaigns to date have taken this insight and used it in a variety of different ways. We all must've heard of Autoglass repair, Autoglass replace. Well they used this touchpoint perfectly. They ran the message home while their customers could do nothing but stare at their windscreen. Cracks or not, you were thinking about windscreen repair. Needless to say they saw massive results almost immediately and also went down in radio advertising history for the most recognisable jingle.
Radio and Context
As an advertiser you're under constant pressure to prove your advertising effectiveness. You need something efficient and cost-effective. Something you can guarantee will connect with your customers consistently at the times they're most likely to take action. That's where radio comes in.
Radio delivers on context in a few important ways:
Strategic Planning
You're probably reading this with a pretty good idea of when you would want your advertisements to run. Nine times out of ten, however, advertisers jump at the wrong times.
Drive time and breakfast are massively popular on radio stations and are always overbooked, but that doesn't automatically mean it's the best for your business. You need to think about your brand, your customers and what they're doing at certain times in the day.
If that sounds like a lot, don't worry, every radio station will have Planners who are specifically briefed to find you the time bands that will get you the best response.n
Smooth Radio North West's Planner shared some of the most common mistakes made by advertisers on radio in terms of planning spots and airtime:
Confessions of A Radio Planner
1 - Advertisers Presume No One is Listening Overnight – Smooth North West, in isolation, delivers listeners you wouldn't expect. Taxi Drivers, Lorry Drivers, you name it. Even those who are looking to get back to sleep. A lot of advertisers are often surprised at the levels of audience radio delivers overnight and a bit of bravery is required to take advantage of this listener base.

Smooth is known as the 'relaxing music mix' so this Mattress supplier knew their radio advert focusing on those who're struggling to sleep at night would hit the ground running. They picked unpopular (and massively cheap slots) that run overnight to target those who are struggling to sleep. We knew Smooth delivered massive audience overnight so this campaign went down a storm.

2- Advertisers Jump At Busiest Slots – Not only do the prices mount up higher and higher due to competition, it's become a bit of misnomer that these slots give the best results, they just give you the most of our audience when they're captive. Unless you're a motor salesman, windscreen repair person or anything relating to cars – we'd suggest you stay away from drive time and instead look for where your customers are most engaged.

3 - Programmatic Ads on Radio are a thing – Line up more than one bit of creative because radio has the technology to change which ad gets played on the fly.

McDonalds UK ran programmatic ads during the summer of 2017. Depending on temperatures form the met office, their creative would change. While it stayed under a certain temperature they ran the regular ads for the 'Saver Menu'. Once the temperature went over a certain level, those switched out for McFlurry Ads. Simple.
Strategic planning, like most advertising, starts from having a decent brief and a clear understanding of your customers. Work on clearly defining those audiences so we can find the perfect spot for your ad to play on.
Sponsorships
Down to the emotional connection and relationship between listener and station, competitions, phone ins, text ins and other listener engagement activities have massive impact on radio. The impact far out-shoots other traditional media and, with the combination of digital and radio, this is only improving over time.
A sponsorship works in a similar way to regular air-time promotions, but instead of playing between other ads in a slot you get to be the champion for a specific segment on radio. This could be a competition, a giveaway or a specific show like the weather, news or a particular host's show.
Sponsorships like these that are massively popular with a very distinct listenership give you a chance to get contextual advertising perfect.
Each segment that you can sponsor has it's own specific tone and content which you can follow according to your objectives.
Advertisers looking to drive sales to their music event have sponsored some of our most popular hits shows. Legal and law firms have sponsored the news and so on.
For a slightly more subversive example, following the weather with a sponsorship for a travel agent would be a sound decision. Imagine if you had a great deal for sunny breaks away and knew that you needed to target work weary adults who were thinking about a break. Hitting them after they've just heard the bleak weather report and are thinking about how rubbish the weather is is a great use of context based advertising.


Delivering Relevance At Scale
Radio, according to Ebiquity:
"Is the most flexible medium as it can be used to target audiences by geography, demographics, context, time of day, day of week and addressability for listeners on connected devices"
Going to broad and not targeting can lead to problems. What many either don't seem to know or don't seem to acknowledge is that targeting too specifically can get you into an equally as tricky situation.
What you need is relevance on a scale that matters. Context, not just for a couple of hundred people, but for hundreds of thousands.
Radio provides that relevance at scale.
In isolation, Smooth Radio North West, the outright number one commercial radio station outside of London, reaches 488,000 adults during weekday drive time (4pm to 8pm) and 535,000 adults during weekday breakfast (6am to 10am).*
This is a great period of time for you to connect with customers who are all engaged in an activity. You can align your creative and create a context based campaign that delivers genuine measurable results.
But Smooth North West isn't the only market leading radio station we have. Browse the rest of our stations here:
*Source: RAJAR/Ipsos-MORI/RSMB six months ended June 2018 within the Smooth Radio North West TSA

Weight Watchers - Pro Points
Weight Watchers have been through many different iterations of their points system designed to simplify dieting. Despite that, the brand has gone from strength to strength.
But in 2011, when pro points launched, it's use of a cross channel approach with a call to action that sent people online was groundbreaking.
What Happened?
December 2010 went like any other December. Drinking, eating, drinking... and eating. The January to follow wasn't much different either. Promises, dieting... and dieting.

Enter Weight Watchers with a very timely promotion that captured it's audience when it needed them the most.
Weight Watchers launched their multi-channel pro points campaign and saw immediate results across digital channels and this was in no small part down to the radio campaigns which featured heavily for the dieting brand.
Have a listen:
The Results
The graph below shows the interest in the search term featured in the radio creative and as you can see the interest spikes almost immediately after the radio campaigns aired.

With the creative featuring Kylie Minogue's WOW, the then tagline for the Weight Watchers Pro campaign, they were making a sound investment in using radio to carry their message.
The psychological benefits of music and audio are well documented. It's been found to improve moods when shopping, leading to overall average expenditure.
Advertisers can also use the familiarity of a popular song to incite a specific reaction in viewers that aligns with the objective of their ad. Powerful songs can evoke strong emotional responses, and songs can help create a soundtrack to the events unfolding in an ad when lyrics are integrated into the voice over and storyline.
---
"Using well known music is like using the world's best short cut. It gets a client on level three almost immediately. You're quickly getting them to the level of trust, commercial responsibility and actionability that can take years of standard outreach."
- Creative Account Manager, Steffen Armstrong


But while it's important that ads resonate with viewers, advertisers want their messages to drive sales, especially with the large price tags that can come with using popular music. However, the good news is that popular songs (and artists) deliver a one-two punch: They boost emotive power and can drive significant returns.
Slower paced songs have even been attributed with improved memory.
In the case of the John Lewis Christmas advert from 2015, Aurora were commissioned to perform a cover of the Oasis song 'Half The World Away'. In 2014, it was Tom Odell covering Real Love and most recently Elbow covered Golden Slumbers.
The benefits of using a well-known, and probably very expensive, bit of music was twofold:
People already know it and begin to draw associations almost immediately. People will also have their own experiences with the song and will carry over those thoughts and feelings. (Which can have positive and negative effects.)
They were able to adapt the popular song to suit the shorter, punchier format of an advert. (And play around with manipulative elements of music theory)
And this is where elements of music theory begin to come into effect. Let's take the 2015 'Man on the Moon' as an example.
Alternating between her full voice and falsetto, Aurora builds up to her higher range in the line 'I've been lost I've been found, but I don't feel down'. She's backed by piano chords and strings. It's simple and soft, yet emotionally overwhelming through a mix of minor and major lifts (giving us that rollercoaster of emotions feeling).
More critically, there is always a pause before the final uplifting chorus plays at the artists highest range.
How royalties work:
We spoke to Creative Account Manager, Steffen about how royalties and licencing works:
"When it comes to using a song, you have two options:
You can buy publishing rights – essentially you're buying sheet music and can recreate it however you like. This costs less than mechanical rights but you need to factor in the costs for covering the song.
Option two is to buy publishing AND mechanical rights. This is for people who want to totally lift it and use the exact song. This is naturally more expensive.
You also need an agreement with the record company. Some of the record companies are a bit precious. For example 7 Nation Army by the White Stripes is totally off limits for anyone, regardless of budget."
This extends to the choice of voice. When a lot of adverts rely on voice over to deliver important bits of information, you need to make sure that your voice is both consistent with creative and context.
"I can't over stress the importance of voice casting. No matter how good the writing, how impeccable the sound design, if you get the wrong voice in everything will be ruined."
My mind jumps to Lena Headley's voice on the 2018 Mercedes radio campaigns going across radio, social and TV. Her voice carries all the same values as Mercedes, uncompromising luxury, engineering and class.

Tesco - Club Card Promo
Before the Tesco Club Card there was Green Shield Stamps. These Green Shield Stamps rewarded repeat visits and spend but Tesco weren't getting what they always wanted: data.
The change from Green Shield Stamps to Clubcard was the ability to track individual customer behaviour cost-effectively using a magnetic stripe card.
But, the card itself wasn't going to be immediately adopted by the masses - it needed a push from a mass appeal, highly targeted advertising medium. It needed a push by radio.
A push that would have Tesco's then chairman Lord MacLaurin, say this about the innovation: "What scares me about this is that you know more about my customers after three months than I know after 30 years."
What Happened?
Although initially introduced in 1995, it wasn't until 2009 when the Clubcard 2 was launched with a full marketing suite to boot did we really see a big online response (as seen in the graph below).
Rolled into the relaunch of the Clubcard was the relaunch of the 'Exchange' benefit where users could exchange their points for vouchers. This aspect of the card seemed perfect for a marketing push and it was radio working hard in the media mix that helped searches for Clubcard exchange.
Give the advert a listen below:
Results:
The creative explained the benefit very well with massive emphasis being put on the fact that you were doubling your money with the exchange.
As you can see from the graph below, the spikes in internet traffic and search volume for clubcard exchange correlates with when the marketing pushes were made and the radio airtime ran.


British Airways - Online Ticket Sales
What Happened?
From the beginning of 2009, British Airways (BA) ran a tactical leisure airtime campaign designed to stimulate immediate web traffic and sales. With a greater impetus on driving short term metrics in tough market conditions, BA was keen to get a better understanding of how radio could drive people online to the ba.com website and ultimately deliver sales. Additionally BA wanted to learn more about how their radio creative could improve effectiveness scores going forward.
Results:
The BA radio campaign ran from late December 2008 to the end of January 2009 in London and the South East. BA used a variety of executions to highlight the different places that they fly to and the must dos for each destination. The ad's aimed to whet the listener's appetite for places such as New York, Orlando, and Pisa; and drive people to ba.com for more details.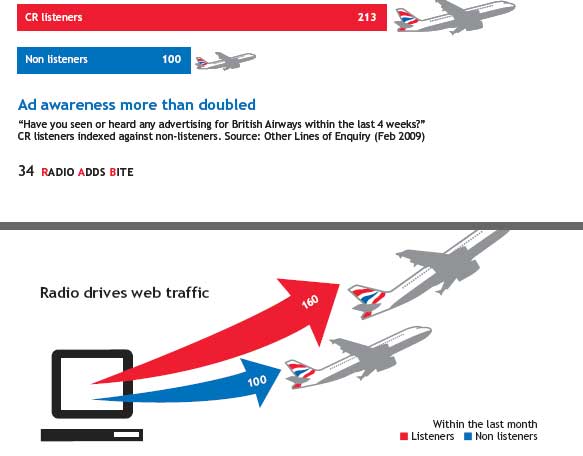 Results demonstrate the important role radio played in increasing top of mind awareness (ad awareness more than doubled) as well as positive perceptions of BA at an important time for online travel searches and ticket sales. This resulted in radio successfully achieving BA's core business goals for the campaign of increasing traffic to the BA website and stimulating online ticket purchases, further proof of radio's ability to influence consumers at all stages of the purchase funnel.
"The RAB worked with us to understand the contribution that radio can make to direct response campaigns. It's as important as ever that we maximise the return on our marketing investment and pieces of research such as this really provide some great insight into channel and creative effectiveness."
Anna West, Planning & Media Manager, British Airways

Metropolitan Police - Knife Crime YouTube Campaign
What Happened?
The previous few cases that we've explored have all driven traffic to ecommerce platforms, but in the case of Metropolitan Police, the flexibility of Radio really shone through when they needed to drive traffic to a specific YouTube campaign they were running.
The main point of the brief was to find a way to engage younger individuals. Music and video games were identified as 2 things central parts of many of these individuals lives.
Results:
Trailers were run on-air in the 'teaser' style which has become familiar in launching new computer games; vox-pop style videos were also run on the stations' websites. Met Police branding was not made explicit until the campaign had established itself and begun to create a buzz.
2,000,000 Youtube Hits. The YouTube channel received nearly two million hits, and significantly the User Rating averaged at 4.6 out of a possible 5. There were over 3000 comments left at the site; at the peak there were 80 comments per day.
"These results show just how effective the right media plan and creative can be in reaching audiences even with complex messages. "
Minaxi Patel, Directorate of Public Affairs, Met Police