Regardless of your stance on Brexit, it'll be sure to have an impact on your business. With no one being 100 percent certain what will happen once we set off on our path of independence, in whatever form that takes, we're left with the task of preparing.
And it's not like British Business owners to just sit on their hands and do nothing. So, as the date lumbers towards us, preparations, or more specifically sacrifices, are made. "Inessentials" are lined up and marched towards the chopping block.
First in line: the marketing budget. As proven by this IPA study: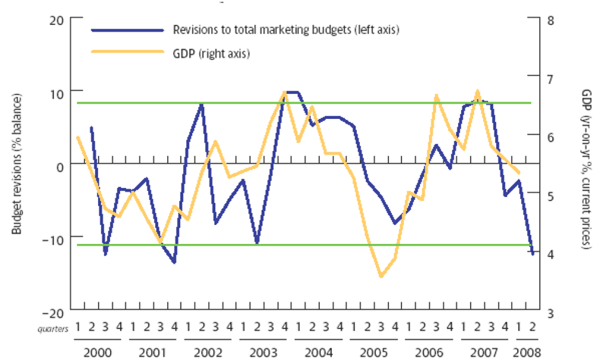 This chart, which compares data from IPA's Bellwether Study to GDP in the 8 years leading up to the last global recession, reveals a close relationship between budgets being revised up or down and the performance of the UK economy.
Vital to note here the different axes for the two measures – the positive/negative swings in budgeting decisions are much greater than those in GDP. If the economy nosedives, positive sentiment towards marketing quickly follows and dives even deeper.
Well, we're here to tell you that that might be one of the biggest blunders you can make in times of economic uncertainty. Here's everything an advertiser needs to know about beating Brexit and keeping your marketing safe.
Jump to a section:
What Will Brexit Change In Advertising?
Why Cutting Ad Spend Now Is a Terrible Idea - Despite the Downturn
5 Tips for Effective Advertising In A Downturn
Are You Using The Right Advertising Medium?
Being Clear With Your Advertising
In early December 2018, Prime minister Theresa May finally secured deals on the UK's withdrawal from the European Union and the nature of its future trading relationship with the bloc. However, with the likelihood of getting these deals approved by parliament in a postponed January vote looking small, uncertainty still hangs over the entire process.
Update 16/01/2019: May's deal was rejected by parliament - the only remaining options are no deal (which would be catastrophic for UK business, small and large.), re-negotiation and another election.
At this point, all options are still equally possible, including no deal, an extension to negotiations and no Brexit at all.
But none of that has so far changed the fact that 29 March 2019 is set in law as the date when Brexit will happen automatically. For brands, waiting to see what occurs is no longer an option – plans, and contingency plans, must be made now, otherwise they won't be in a position to act on whatever sequence of events actually comes about.
According to research by Ipsos Mori, which surveys senior leaders at the UK's 500 largest listed and private companies, businesses are worried about the year ahead. It finds 74% are pessimistic about 2019 – an increase of 8% from last year with many becoming increasingly concerned about Brexit.
Ipsos Mori asked Chairs, Chief Executives and other Senior Managers if they thought the prospect of Brexit was worse today than they predicted 12 months ago with 67% saying their company was worse off, up from 56% a year ago.
Ben Page, chief executive of Ipsos Mori says: "Britain's largest businesses feel Brexit is having a more profound impact on British business than our business leaders thought it would a year ago — 67% of 'captains' think that their company is worse off."
When times are hard there is an increased emphasis on quantifying the expected returns for all kinds of investments or expenses including those that, before the crisis, were simply justified strategically because they were not deemed to be calculable or could not be assessed adequately in quantitative terms; like using some less direct response advertising.
So, do you stick or twist on your marketing?
To help you come to a conclusion of your own, we're looking at everything that stands to change come the 29th March 2019 when Brexit finally becomes a reality, as well as what the evidence says about advertising in a downturn.
What Actually Stands To Change In Advertising Come Brexit?
The answer: not much at all.
Here's an extract from an ASA blog post written just before the vote was held.
"While we cannot offer definitive views on the impact of a vote to leave, we consider that it would be unlikely to cause immediate substantive harm to the advertising self- and co-regulatory systems or require marketers to change their approach to compliance with the Codes in the short-term."
As many advertisers would tell you, the UK is reinforced by some rather sturdy self regulation and controls implemented via CAP, BCAP and the ASA. Many of these regulations are self imposed and carried out under agreement with Ofcom which has a statutory responsibility for broadcast regulation under the Communications Act 2003.
Advertisers up and down the UK are demonstrating their commitment to high standard advertising.
The ASA blog continues:
"We see no reason why these principles should not persist in the event of a vote to leave the EU. Many of the rules in the Codes have been implemented by us to address obvious needs and have little or no European context in any case."
But (there's always a but) there are some instances where EU-orginating legislation have had to be implemented in domestic law.
The European Unfair Commercial Practices Directive is implemented in the UK and it underpins our own rules on misleading advertising and their interpretation. Naturally, questions have been asked about the justifiability of such laws and losing these laws would have negligible impact on our own advertising standards.
EU regulations (as distinct from directives) apply in the UK without implementing legislation. For instance, the Regulation on Nutrition and Health Claims Made on Foods applies Europe-wide and requires that only claims approved on an EU register can be made for food products. These requirements are reflected in the "Food" sections of the Advertising Codes. The UK's obligation to comply with such regulations would persist until it actually left the EU.
So, there are only a few regulations and directives from the EU that impact advertising in the UK. Down mostly to the very thorough laws we impose on our own advertising industry, not much should change.
If anything, our impending exit from the EU should be a signal for us to brush up on advertising etiquette.
Why You Shouldn't Stop Advertising In A Downturn
The very fact we're asking these questions should be the first signal that major uncertainty is growing in the UK economy.
Businesses are not insular organisms. Their branches extend into so many different areas that even a slight ripple in the water could result in awkward conversations and knee jerk reactions.
And it's usually the marketing budget that's the first to fall victim to these knee jerk reactions.
In an early reaction to the leave vote, ITV cut 150 advertising jobs amid the uncertainty with a reported £25 million saving. Likewise, during the third quarter of 2017 the british news agency Reuters froze advertising spend as a direct response to the economic uncertainty surrounding the impending decision to leave.
And most recently, Jaguar/Land Rover announced the lay off of 5000 of it's 40,000 strong UK-based workforce, with marketing bearing the brunt of that layoff.
Big advertisers and agencies out there are shuffling their pack, and it would appear their marketing spend is moving to the bottom of the pile - will you make the same mistake?
McGraw-Hill Research conducted a study of U.S. recessions from 1980-1985. Out of the 600 business-to-business companies analysed, the ones who continued to advertise during the 1981-1982 recession hit a 256-percent growth by 1985 over their competitors that eliminated or decreased spending.
American Business Press analysed 143 companies during the economic downturn back in 1974 and 1975. Companies that advertised in those years saw the highest growth in sales and net income during the recession and the two years that followed.
The numbers aren't a fluke. They prove there's a reward for companies who are aggressive with their advertising efforts in a recession. Here are even more reasons why you need to advertise your business in a bad economy:
Customer Demands Have Not Changed
In times of economic uncertainty there are usually two major economic reactions. Demand shock and supply shock.
Demand shock implies that something has happened to change buying and spending habits, whereas supply shock comes from the fall in the value of sterling which can cause input costs for goods and services to rise. This makes it more expensive for those who supply goods and services to do so, limiting supply, while investors pulling capital out restricts the supply of capital in the economy, and workers leaving the country restricts the supply of labour.
For advertisers worried about their customers spending habits, it's important to remember this fact: if a majority voted to leave, that majority was not shocked by the outcome, so they won't stop spending or change their behaviour.
Likewise, general day to day demand will not change either.
Cars will still break down. People will still eat food. By not advertising you'll slowly fall into the same heap as your competition and become impossible to find.
With this rather simple summary, it seems obvious that the last thing you'd want to do is to stop advertising to a market that hasn't changed it's buying habits. Armed with this knowledge your competition won't stop advertising, meaning you'll only fall behind.
You Can Make A Long Term Position For Your Brand
Standing out in the marketplace is hard enough when you and your competition are battling it out in the ad world. As your competition cuts back on ad spending, your advertising can cut through that clutter.
Consumers may not be spending as much but they are still spending. If you're not the company they think of when they do spend, your sales will decrease. While your competition is cutting back, you have the chance to be the company consumers spend with now while gaining their future business as you continue to advertise in good times and bad.
You Can't Afford to Lose Momentum
But, more specifically, there's risk involved in cutting ad spend – brands that stop advertising lose momentum.
Over the years, a range of evidence has been collated (including from Millward Brown, PIMS and the IPA Databank) which makes the case for protecting marketing spend.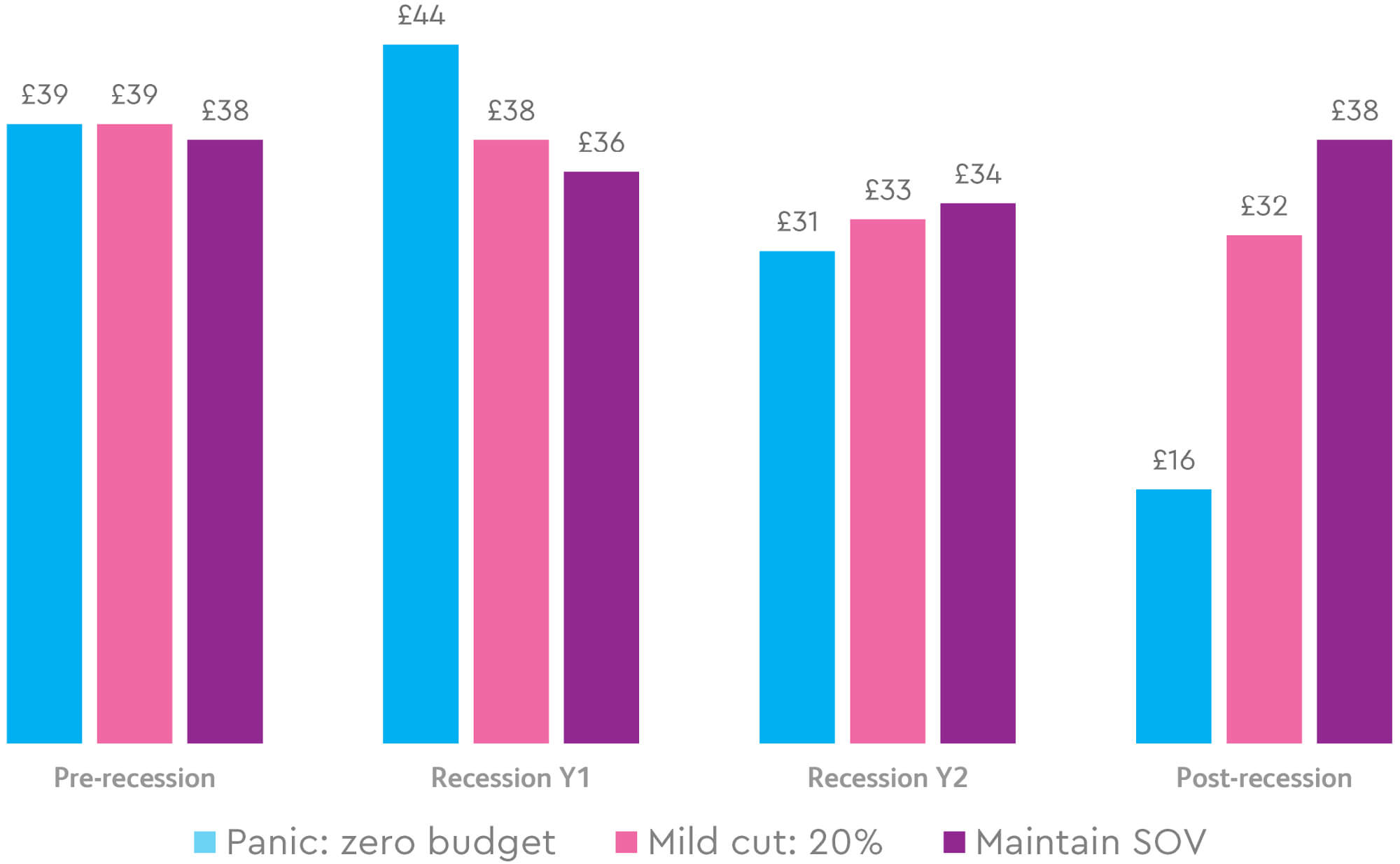 This chart, using modelled IPA data, shows the likely impact of changes to marketing spend on the annual profitability of a brand during and after a recession, based on different budget scenarios.
As you can see, for the panic scenario which cuts all ad spend during the recession, the short-term improvement in profitability is rapidly overtaken by a severe decline, becoming acute in the third year when the marketing budget is restored.
In the case of a milder budget cut of 20% for two years we see a similar but less severe pattern. However, the brand still emerges from the downturn in a considerably weaker position in terms of profitability.
5 Tips For Effective Advertising in A Downturn
But just because it's a bad idea to cut advertising spend, doesn't mean we can continue to enjoy the same advertising best practice that we do in times of economic certainty.
No, we need to take a long hard look at how we advertise and change a few things
Here are 5 tips for effective advertising in a downturn:
1. Emotions are the key to brand strength...
There's one thing that will never change, regardless of the economical position of the country:
People use media to make themselves feel happier.
And happier people are more inclined to respond to advertising in an instinctive, emotional way. This study shows that radio excels as a "feel-good" medium, and importantly that this effect extends into enhanced consumer engagement with the advertising.
If that's not enough, look no further than an analysis of nearly 880 case studies published by the World Advertising Research Centre shows that ad campaigns that focus on emotional engagement tend to be more profitable than ad campaigns that focus on rational messages (such as low prices or special offers), even when times are tough.
When economic hard times loom, we tend to retreat to our village. Look for cozy hearth-and-home family scenes in advertising to replace images of extreme sports, adventure, and rugged individualism. Zany humor and appeals on the basis of fear are out. Greeting card sales, telephone use, and discretionary spending on home furnishings and home entertainment will hold up well, as uncertainty prompts us to stay at home but also stay connected with family and friends.
Radio is well known for it's ability to multiply emotions. Radio, according to the Radiocentre study, has the biggest influence on people's Happiness and Energy, and on more occasions.
Consider radio for advertising with an emotional edge.
2. ...And Brand Strength is key to thriving
It wasn't Brexit that drove a wedge between us, we were already fragmented. Split between different media, different demographics.
Brand equity is different now. The massive brands don't have ubiquitous, flawless presence. Any brand, regardless of size can
Communicating clearly what your brand stands for in the face of change will breed confidence, you just need to right platform to shout from.
Radio reaches a wide audience, with nearly 36m listeners every week, and this coupled with it's ability to make an emotional connection you've got a recipe for brand strength.
Likewise, radio accounts for 16% of all time spent with media so is effective at driving high share of voice/share of mind for a brand on budgets that would have limited impact within other media - a must have if the strength of your brand is top of your post-Brexit wishlist.
3. Cut the right costs
If you do have to cut costs, make sure that you cut the right ones. An analysis by PIMS (Profit Impact of Marketing Strategy) of how over 1,000 firms have reacted to previous downturns shows that some cost-cutting strategies are more profitable than others. Firms that cut manufacturing and administrative costs tend to do well, as do firms that cut spare capacity. But firms that reduce product quality or cut budgets for marketing and NPD tend to underperform.
4. Do One Thing Well, Really Well
In addition to rationalising the customer base, companies should also rationalise their product lines and focus on their core offering. Most companies have valuable assets such as certain customers, skills and an established brand identity. These should be protected so that they can weather the storm, as well as sharpened and strengthened in order that the company can remain resilient and competitive. This is what Google appears to have done as it pulled the plug on some of its products including SearchMash (a website to organise search results), Dodgeball (a mobile phone service) and Lively (a virtual world), explaining that it did so in order to prioritise its resources and to focus on its core search, ads and apps business.
You should be doing something similar with your advertising. Cut away all inessentials and focus your advertising on one aspect of your product or service that...
A) Provides the most perceived value to your customers
B) Strengthens your brand and returns the most investment
Although this is something we like to squeeze into every bit of work we do with our clients, a 'Single-Minded Proposition' approach to advertising is all the more important when your customers, and the entire market for that fact, isn't as steady as anyone would like.
5. Younger Adults Spending More Likely to be Affected
Some of your youngest buyers wouldn't have even had a say in the first 2016 referendum, and this disconnect may be responsible for the latest findings from Kantar Media Great Britain TGI consumer data.
It revealed that 28% of all consumers aged 15+ agree 'The economic outlook heavily affects my purchasing behaviour'. However, those aged 18-24 are 23% more likely than the average adult to agree with this attitude, whilst those aged 65+ are 25% less likely than the average adult to do so.
What does this mean for your advertising plans? Well, there are two things you should consider:
With their position on new purchases perhaps it would be a sound decision to avoid any direct marketing targeted towards 18-24 year olds altogether.
Would a new brand stance, based around transparency and authenticity, win over these demographic that largely feels aggrieved by recent decisions?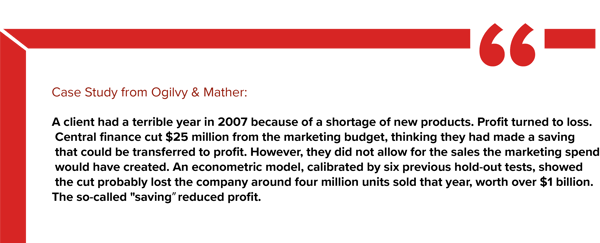 Are You Using The Right Advertising Medium?
The Radiocentre's Brexit campaign
If it's your job to try and achieve the same results for less then you need to re-evaluate the advertising mediums you use. Including a wide range of different mediums to achieve true cross-platform
Radio, for one, has an excellent track record of delivery. Here are a few reasons you may want to consider radio in times of economic uncertainty:
Activation and Long Term Brand Building
With a proven ability to drive both short term sales and long term brand awareness, radio is the perfect medium to help ease the uncertainties of advertising in a downturn.
Shifting money between media can help offset a reduction in your budget – and help to deliver sales goals. But even with greater focus on short term activation it is still important to keep one eye on the future.
Binet and Fields's latest analysis of the IPA Databank from October 2018 highlights the importance of achieving both brand AND activation effects – campaigns that do both achieve 60% more large business effects than those that just focus on activation.
Higher Than Average Return on Investment
According to Ebiquity, radio has the second highest rate of short term ROI.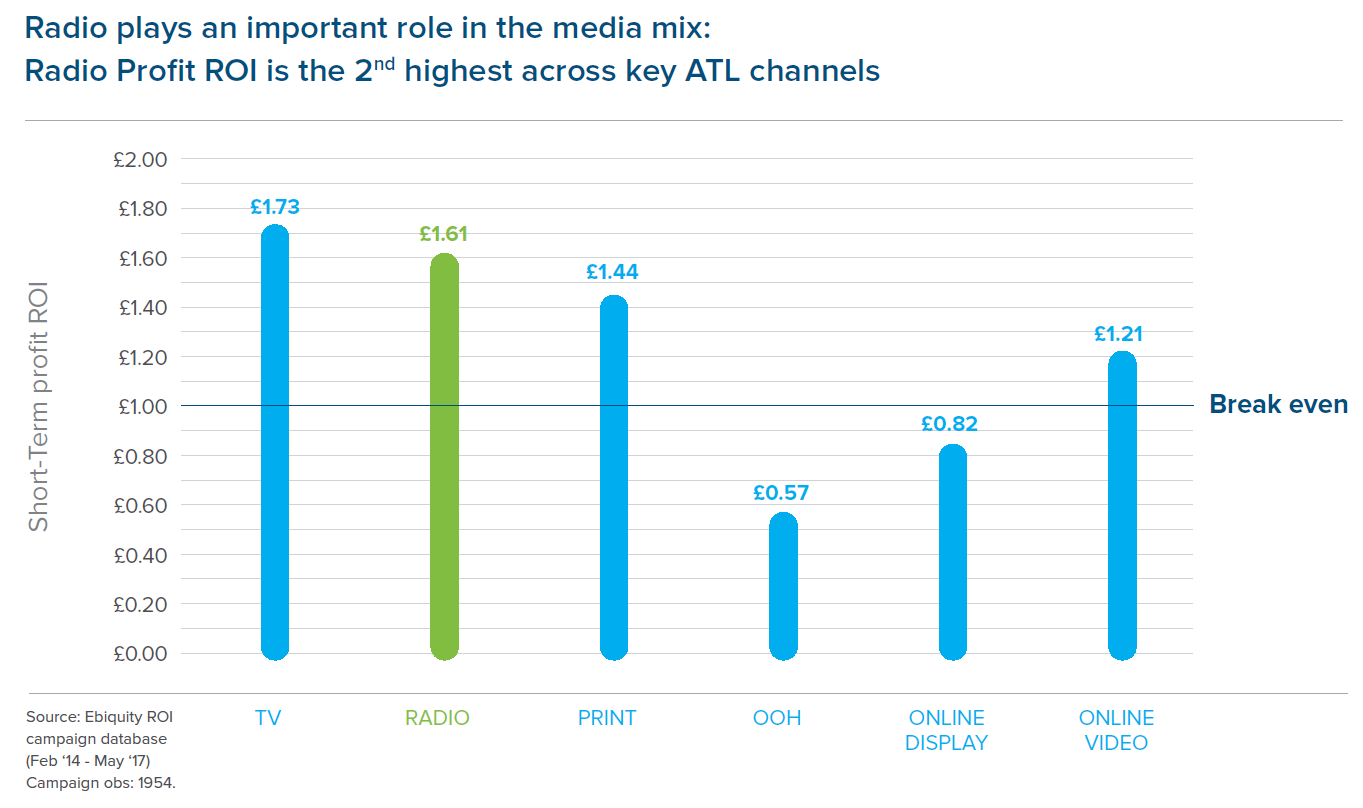 In addition to being the second most profitable media channel for advertisers, radio ROI is improving over time.
Despite concerns that radio's effectiveness is in some way being undermined by the growth of digital media, Ebiquity's analysis shows that the average radio profit ROI has grown by 9% over the last decade.
In fact, that very positive ROI outlook goes across plenty of industries, according to Ebiquity data.
Retail fared the best: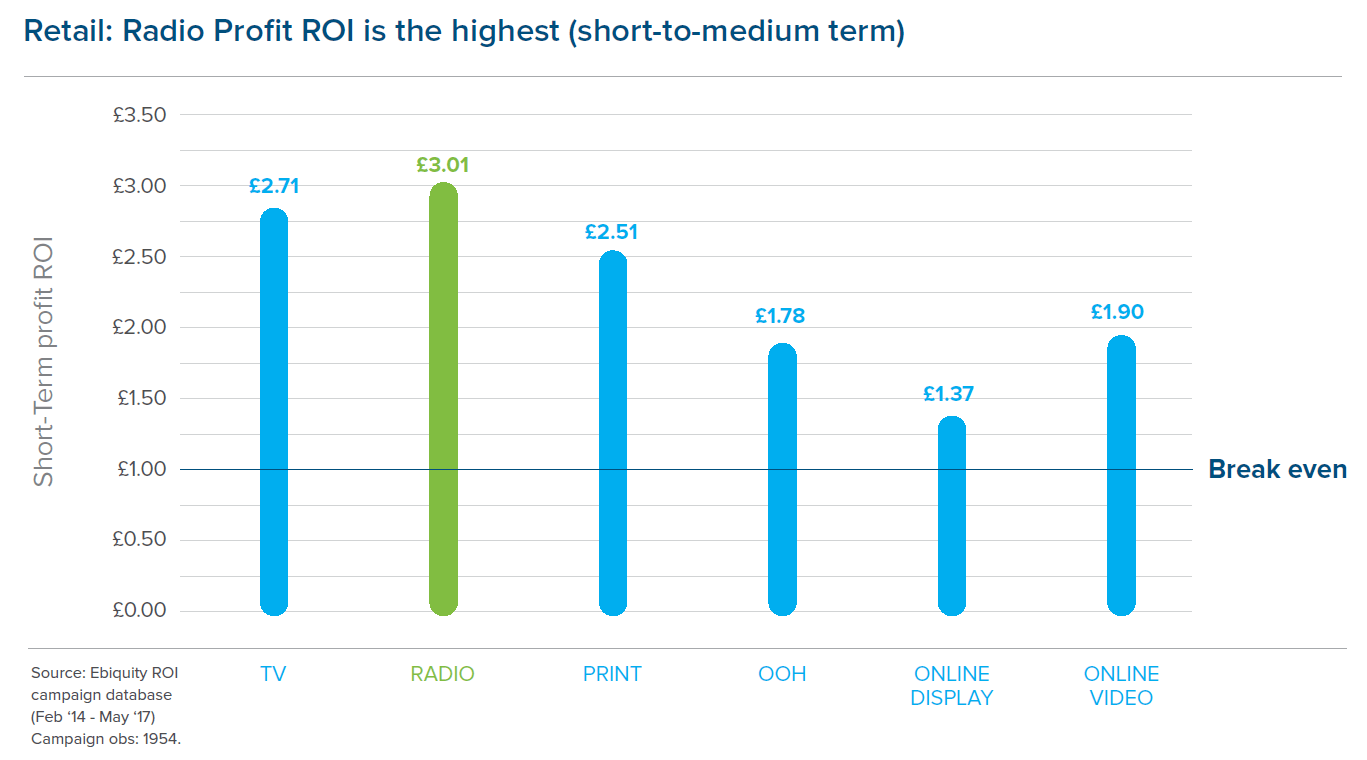 And travel shares in the wealth:
Cost-Effectiveness
Running low cost, low risk but high impact advertising is what we all aim for. Getting there is another thing altogether. The good news is that on average brands using radio get their money back nearly eight times over at £7.70*. Couple that with lower production costs and you're on to a winner.
*Source: Radiocentre's ROI Multiplier
When it comes to actually creating your ads you have to not only factor in the cost of the airtime or space on the page, you also have to consider the cost of producing the creative.
From a 60 second TV ad with a full cast and crew, to a microphone, a voice actor and a sound designer - it's vitally important that you get creative that carries your message to your customers with originality, empathy and creativity.
But, for most, our imaginations run up a hefty bill.
Dreams of a sprawling cast, original soundtrack and beautifully colourised cinematography come to mind only to be crushed by the weight of the inevitable invoice.
But with radio, you can have your dream ad without running up a hefty creative bill. All you need is the right script and an excellent sound designer to bring alive the theatre of the mind.
This is reflected in the evidence, with many advertisers believing that you can have a cost-effective advertising campaign with radio. Just take a look at the results of the Re-evaluating Media study from Ebiquity:

How royalties work:
We spoke to Creative Account Manager, Steffen about how royalties and licencing works:
"When it comes to using a song, you have two options:
You can buy publishing rights – essentially you're buying sheet music and can recreate it however you like. This costs less than mechanical rights but you need to factor in the costs for covering the song.
Option two is to buy publishing AND mechanical rights. This is for people who want to totally lift it and use the exact song. This is naturally more expensive.
You also need an agreement with the record company. Some of the record companies are a bit precious. For example 7 Nation Army by the White Stripes is totally off limits for anyone, regardless of budget."
This extends to the choice of voice. When a lot of adverts rely on voice over to deliver important bits of information, you need to make sure that your voice is both consistent with creative and context.
Payment Options
Radio advertising also has a wealth of flexible payment options to help curb the costs.
These payment plans usually come in the form of 12 month, brand building campaigns that are designed to spread the cost of production and airtime over a long period of time. As it works, you'll slowly be building share of mind with the listeners of your chosen station.
Our WOW packages only come round at the start of the financial year but if it sounds like something you'd be interested in, you can contact a member of our team below:
Valuing Radio
The All-Party Parliamentary Group on Commercial Radio recently released their report: Valuing Radio.
And although most of the reports findings pertain more to radio's value to consumers, there was one section that would be of interest to advertisers up and down the country.
This information is particularly relevant for SMEs looking to expand their business. And especially now, with brexit threatening to make life difficult for SMEs, will it pay to advertise on a medium that is proven to deliver with less investment.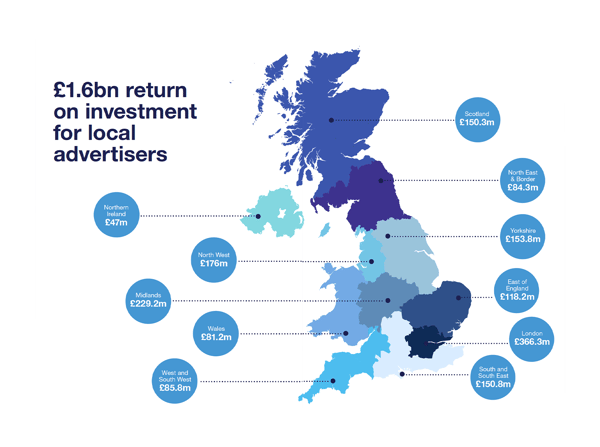 Radiocentre's regional ROI analysis is based on local advertising revenue and underpinned by Radiocentre's ROI multiplier research, which shows that brands using commercial radio in the UK get their money back 7.7 times on average and, in many sectors, radio offers the best ROI of any media.
Trust
Trust is a crucial part of the buying journey and advertising is all about influencing your customers' buying.
There was a time where trust was a bi-product of status. For example, the old Lucky Strikes adverts leveraged trusted pillars of society, in this case; the Physicians. Consumers were more inclined to believe the "It's Toasted!" slogan and the message with it because it was associated with a caregiver. Times have changed.

For us, trust is a precious commodity. With easy access to information and insights, customers have become more informed and naturally sceptical. It's harder than ever to nurture trust in your customers buying journey in a way that's authentic.
Forget 'Fake News', forget ad blocks and YouTube boycotts. Radio has got some 'Real News' for you:

Radio is the most trusted medium for news, entertainment and ads.

As reported in the most recent public opinion survey undertaken by the European Commission.

Trust is one of the most powerful currencies in business and marketing and it's currently high on the list of priorities of many brands.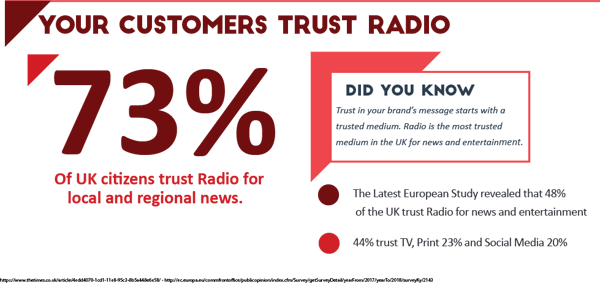 The Beast From The East and Fake News
In the era of fake news, advertising has been caught in the crossfire. Radio is one of the few mediums that has held the trust of the public. The consistency and readiness of the content available on air puts radio head and shoulders above other mediums.
This trust was exemplified when the 'Beast in the East' hit the British Isles in early March 2018. During the cold snap roads were closed, schools shut, and people trapped. Where did they go for their updates? Radio.
Radio saw a massive spike in listenership during this time further showing the levels of trust vested in Radio as a medium.
This extends to news coverage as this Radiocentre study found that 79% agree commercial radio provides helpful, concise updates on the news throughout the day.
According to research conducted by McCann Worldgroup the number one adjective used to describe top brands in Europe is Trustworthy.
In an era where fear and uncertainty are omnipresent, safety, reassurance and security are brand values that are a complete necessity now more than ever.
Something radio has in spades.
Deal or no deal?
It's a question that'll be floated around parliament relentlessly for the next couple of months, and, with any luck, it'll stay in parliament. Don't let your deals suffer. Keep the faith in advertising.
Being Clear With Your Advertising
With the extra legislation from the EU due to become defunct come late March, it's now more important than ever to brush up on your advertising etiquette.
Why? Because the ASA/CAP/OfCom triumvirate doesn't mess around.
Their high levels of regulation will have been in effect while we were part of the EU and will kick into overdrive when Brexit finally comes around. This is a great excuse to make sure each and every stakeholder understands the importance of true transparency in advertising.
1. Make sure your pricing is clear
This may seem obvious but nothing goes without saying here. Make sure the price advertised is the true price for the product advertised, no ifs, no buts. Don't neglect additional charges like VAT, service, delivery or anything like that.
2. Don't exaggerate the capabilities of a product or service
Although it's our responsibility to colour our products/services in the shiniest colours we can find, it doesn't mean we can colour over the lines.
Don't overclaim in a way that would mislead.
But, don't worry. If you plan to launch your ad campaign with obvious over-exaggeration at the heart of the creative, breathe easy. Obvious exaggerations that the average consumer is unlikely to take literally (and that are unlikely to mislead) are allowed.
3. Ensure Qualifications are Clear
Qualifying text (small print or footnotes) can be used to clarify a claim in an ad, but don't use it to hide important information or in a way that misleadingly contradicts the headline claim. For example, it's often contradictory to claim "X% Off Everything!*" and then qualify this with "*exclusions apply".
Here's an example of this in practice. The smart meter campaign from the UK government took data to show the impact that using a smart meter would have, extrapolated it and put it into an advertising format.
They've made sure to clearly qualify their claims in the closing seconds of the ad, quoting the source and the methodology. No less will be satisfactory.
4. Make Evidence Readily Available
Remember that before you run an ad, you should hold adequate evidence to support all objective claims or those that are capable of objective substantiation, bearing in mind the impression consumers are likely to take from the ad. The level of evidence that is required will depend on the type of claim being made and the product in question. For example, for some health, beauty or slimming claims robust clinical trials may be required.