the voiceworks event
The Voiceworks team consists of voice, audio, tech and SEO specialists, many of whom have a commercial radio background, and an innate understanding of how brands can build relationships with consumers in the audio world. The content team are also experts in production for public service broadcasters.
Our ambition for the voice market is to not just deliver what we already know is possible, but to push the boundaries of what voice could be. That's why we're launching with an event that covers the full breadth.
see the full itinerary below:
The Voice/Audio Revolution
Looking good no longer cuts it - you have to sound good too.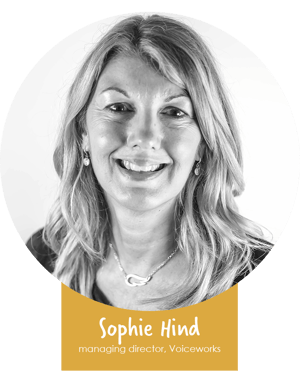 It's predicted that by next year 50% of all searches will be voice-enabled and 30% of all searches will be conducted without a screen. Spurred by the accessibility of technology like the Google Home and Amazon Alexa, voice activation is quickly becoming part of consumers everyday lives.
Running parallel to this commercial audio continues to grow it's audience and engagement in the face of an ever-fragmenting media landscape.
Get to know the speaker:
Sophie Hind, Managing Director of Voiceworks, has built a successful career working in strategic roles with some of the biggest media companies in the UK. Sophie joined Voiceworks in September 2018 to play a lead role in establishing the agency.
Before joining Voiceworks, Sophie was the Regional Strategy Director at Global for nine years. In this position, Sophie played a leading role in improving operational efficiency and delivering successful technology projects, as well as running regional radio stations across the UK. Prior to this, Sophie also held roles at ITV, Jazz FM and Capital Radio Group.
Sophie is an expert in business transformation and she also has a passion for harnessing new technology.
Voice Technology and Voice Search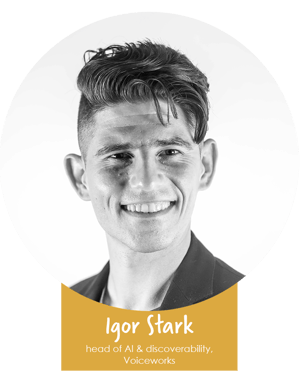 When normal search engine optimisation rules don't apply, securing position zero on voice enabled platforms isn't an easy prospect. The voice search market is expanding at an exponential rate with The Adobe Voice Technology Study finding only recently that 48% of consumers use voice assistants for general web search.
What consumer behaviour is driving adoption of voice technology? What's possible now and what's coming in the future? What do you need to do to optimise your site, so it's sourced as result in voice search?
Get to know the speaker:
Igor Stark, Head of AI & Discoverability at Voiceworks, has 12 years' worth of strategic digital marketing experience, working for some of the biggest global media agencies.
Prior to joining Voiceworks, Igor worked for Mindshare, the7stars and Ogilvy, leading global search strategy and analytics projects. He worked on international and major household brands including HSBC, Papa Johns, Scandinavian Airlines and Nestlé, for whom he created a pioneering eRetail marketing bible and was recognised for his visionary approach.
Igor's expertise in innovation and technology, allows him to help companies rethink and develop their investment and approach to voice technology and search strategy.
Igor joined Voiceworks in February 2019 and brings an innovative analytical approach to his work, fuelled by his passion for studying human consumption behaviour patterns.
Audio Content and Podcasts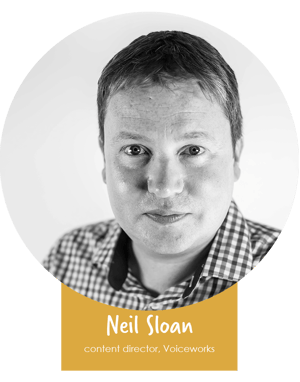 Ever wondered what goes into the podcasts you listen to everyday? And how do you deliver branded content through audio? What can brands do to get the most out of this audio renaissance?
Neil will be discussing the full range of our audio content offering from strategy and concept to production and analysis with special consideration towards the commercial applications of one of the world's oldest forms of entertainment.
Get to know the speaker:
Neil Sloan has had a lifelong passion for radio and started his career at BBC Radio 1, producing shows for talent including Sara Cox, Vernon Kay and Scott Mills. Neil was the long-time producer for Greg James' BBC Radio 1 programme.
While at the BBC, Neil developed a strong a reputation for innovation, and worked to produce and reinvent The Official Chart, reformatting the programme entirely and creating an extra layer of online content. The programme was regarded as a flagship BBC multi-platform offering.
From the BBC, Neil moved to production house Wise Buddah as an Executive Producer, working on BBC Radio 1, BBC 6 Music, Asian Network and BBC Radio 2 programmes. He also led the production team of the branded content podcast "The Appcast" for O2 and the Official Charts Company. After leaving Wise Buddah, Neil moved to Communicorp UK as the Programme Controller for Capital South Wales and became Group Programming Director in 2017.
Neil joined the Voiceworks team in September 2018 as Content Director, overseeing all audio content being delivered by the agency.
The Psychology of Sound
As new technological developments present opportunities for advertisers to consider their audio branding, the psychology of sound proves its more than just the latest trend.
Join John-Paul, Creative Director at Voiceworks, as he takes us on a journey through time to show how sound evokes and stimulates our lives, thoughts, feelings, memories… and drives the decisions we make every day. With practical examples of not just what kind of sound works, but why.
Advertisers will be gaining true insight into how they can benefit in the audio renaissance.
Get to know the speaker:
John-Paul Hughes, Creative Director at Voiceworks, is a multi-award-winning advertising creative.
John-Paul started his career at Glasgow-based creative agency Spike Media, before moving into radio with the Guardian Media Group. He has also held the role of Group Creative Director at Bauer Media and Group Creative Director at Communicorp UK.
He is the founder of the 'Death to Mundanity' creative collective, a musician, songwriter and guitarist with neo-psychedelic rock band Helicon.
John-Paul joined the Voiceworks team in 2018, bringing his expertise in the delivery of exciting and effective audio content to the role.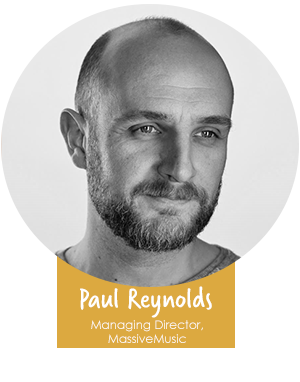 Sonic Branding
Music has the power to evoke emotion and alter perception. Sonic branding is strategically integrating sound into brand identity, as one of the main components to convey a brand's values, message and trigger emotional recall with consumers. Music brings people together transcending cultural and language barriers: it is a universal language that everybody understands. Giving brands a distinctive voice helps them cut through the noise and increase brand awareness and recognition. During this session MassiveMusic are going to walk you through the what, how and why of sonic branding and explain how you can create and use purposeful sound within your brand world whether you're an SME or a multinational.
Get to know the speaker:
Paul Reynolds, Managing Director of MassiveMusic London.
His career in music started in the late 90's producing and DJing in the dance music scene. After a brief hiatus in the advertising photography world, Paul returned to music production where he managed major international productions for broadcast branding, promos and commercials. He quickly moved up to Head of Production & Business Development, managing a team of producers and composers.
In 2011, Paul set up the London operation for international music agency MassiveMusic. He entered the company to the UK and Europe's sonic branding & strategy, music production, supervision and talent management industries, quickly becoming one of London's leading music agencies. For lovers of 90s house and drum'n'bass, Paul can still sometimes be caught dusting off his decks for a nostalgic vinyl trip.
About MassiveMusic
MassiveMusic is one of the leading music agencies in the world with offices in Amsterdam, Berlin, London, New York, Los Angeles, and Tokyo. The agency helps brands find their voice and tell their story through music. MassiveMusic produces and composes for the advertising, broadcast branding and interactive worlds. They develop music strategies for global brands, provide music search and licensing services, create innovative activations, scout new talent – and throw a mean party every once in a while. The company is proud to have sprinkled its melodic magic on many of the world's biggest brands. Website: www.massivemusic.com