Why Radio?
It's a question we never get tired of answering because radio advertising has so much to offer.
Between massive reach, high powered targeted and assured ROI, radio has options to cater to every possible advertising strategy.
Whether you're thinking about running cost-effective, impactful campaigns that drive footfall and sales, or looking for long term brand awareness, Radio provides. And this 'Why Radio?' infographic is a good place to start. Just click below to banner download:
The 'Why Radio?' infographic includes radio stats, facts and studies. It's all in one place, and it's all available to download now.
The 'Why Radio' infographic comes off the back of another year of growth for commercial radio. Announced at the recent Tuning In Conference, the news of 12.7% revenue growth for commercial radio prefaced a packed week at the very first Radio Audio Week.
Read our roundup of all the headlines from Radio Audio Week
here
.
1. Assured ROI
As a local business owner, its likely you'll be familiar with wearing plenty of hats. One day its sales, the next its finance and after that you're a marketing guru! Clear defined goals and assurance of ROI are what you need to make decisions when it comes to any advertising budgets.
Radio advertising has been found to give you an incremental ROI of 60p per £1 spent. That was the major headline result of study conducted by Ebiquity in their 're-evaluating media' study. In that study they took the countries most popular advertising mediums and put the facts up against perceptions.
Many advertising mediums were all talk. Radio was all walk.
2. Precise Targeting and Context Based Selling
You can't connect with your customers if they're not tuned in. And your customers are not tuned in all the time.
Welcome to advertising 101. What the industry calls a 'touchpoint' we might call 'rush hour' or 'hell on earth'.
Any good advertiser will align their message with key times in the day where their customers are tuned in, but a great advertiser will look to take it one step further.
They'll look to align their message with an activity, and they'd be right to do so…
According to research conducted by Differentology, brands like McDonalds, Heinz and Deliveroo saw a sales uplift of 51% when they focused on targeted their customers when they were engaged in relevant activity.
But there's a but, a big but…
The shady underside to this brilliant marketing mechanic we call context is what we (It might just be me) like to call the 'context creep.' Being too formulaic in how you handle context in your advertising can lead to just that – you're too formulaic. We've all googled something, then gone on to Facebook to find an ad for that exact product. It's a bit creepy, isn't it. Context creep.
Instead, we like to focus on context that's broad enough to be subtle but focused enough to still compel thought. For example we'd suggest rush hour, Sunday afternoon and school run times to car sellers who want to advertise on radio. Why? Well because those are the times they're sat in their cars thinking about an upgrade.
Radio, according to Ebiquity:
"Is the most flexible medium as it can be used to target audiences by geography, demographics, context, time of day, day of week and addressability for listeners on connected devices"
3. Emotional Response
When prospects ask us: 'Why radio?' we like to answer that questions with another question:
"Why advertise?"
If your answer is to connect with your customer on an emotional level then you're already thinking like a radio advertiser.
For all of radio's ability to drive sales with clear call to action, reach and touchpoints - it's the deep emotional connection between listeners are the radio that really set radio apart from every other medium out there.
Radio, for many, is more than just a station. It's a bond, a friendship a routine.
If you can fit into that routine and provide value you'll not only be remembered, you'll be revered.
4. Make A Big Impact With Effective Frequency
If you want your customers to know about your great deal you need to hit them hard.
If you've done any research at all into this topic than you've probably come across a few different articles explaining that you need to hear or see something multiple times before it starts to sink in. Many industries address this with ad 'frequency'. Frequency is essentially the amount of times your advert plays over a certain amount of times. Being played more results in more opportunities for your brand to be seen or heard.
However, with some advertising mediums where the costs are higher, increasing your frequency isn't a viable option. The good news here is that some advertising mediums have been shown to naturally inspire more retention.
According to the Radiocentre, those exposed to radio were 52% more likely to include a brand name in their internet searches. Likewise, 58% went online within 24 hours of exposure to a radio ad to make a related search.
That's the kind of immediate response you need.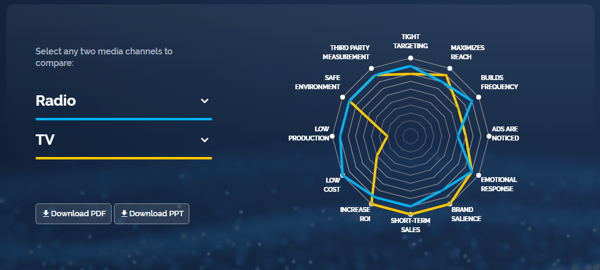 But simply saying something exists isn't enough anymore. Creative is important.
A sentiment mirrored in Nielson research. They found that across nearly 500 campaigns, creative remained king. 47% of those who contributed picked creative as the most important aspect in advertising effectiveness.
Think about advertising creative as a brand new, premium car. A great creative concept is a high-end Mercedes. It makes a statement, looks great and turns heads. But without certain elements, like a powerful deal with a limited time offer and a clear call to action, your Mercedes hasn't got the fuel to help it out the showroom.
It's a balancing act. A tightrope that our creatives walk on a daily basis.
5. Opportunities to Sell
Have you got an amazing offer you only want to run on a limited schedule? Build brand awareness? Drive footfall? Or do you want to reinvent your brand and change customer perceptions? Either way, radio advertising has you covered with generous opportunities to sell.
We can provide excellent short-term sales response with an impactful advert that plays a lot over a short period of time. Perfect for a flash sale.
We can also provide campaigns that slowly expose your brand and message to your customers in a way that's not going to have them turning over the channel. Perfect for building your brand.
Radio advertising can help you get ROI by providing opportunities to sell at any touchpoint.
6. Lower Cost Production + Precise Targeting = Cost-Effective Campaigns
In comparison to most traditional mediums, radio's production costs are low. You can build an advert that brings your brand and offer to life through sound and voice, without breaking the bank. Lower cost production means you can focus on getting your message and offer bullet-proof.
You don't need everyone to hear your advert, just the ones that are going to buy or use your service. Radio advertising can reach your customers at key times in the day, the latest Ebiquity study voted it number 1 for targeting.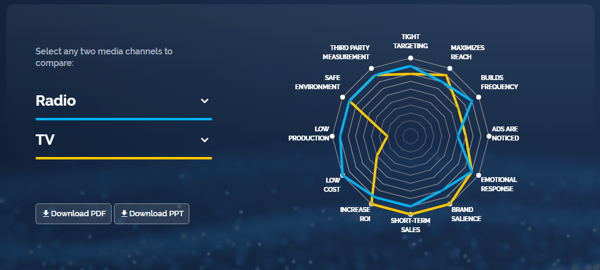 Combine both of these and you've got a cost-effective campaign. One step closer to a radio advertising ROI.
7. Radio Supports Your Other Marketing
A big part of getting a return on your investment is being able to move your customers from knowing your brand, to making a purchase, and finally, to telling all their friends about your amazing product or service.
What use is an advert if it doesn't push your customer closer to a conversion? Radio advertising is a call to action medium that has been proven to compel listeners to browse your brand and offer online.
Radio advertising makes the tricky business of converting simple, by reaching customers at relevant times and places.