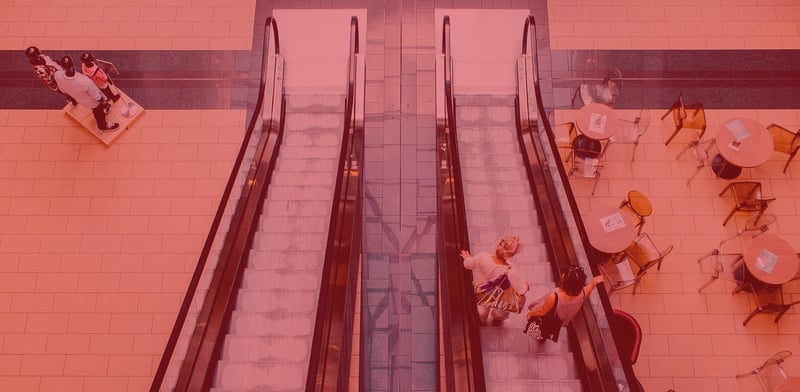 You've lined up a great deal, dressed your shopfront up perfectly and now it's just a case of telling all your customers about it. Sounds simple, right?
Advertising can get you noticed, put your store on the map and land an irresistible offer in the laps of your target customers.
But do you ever stop to think that your advert is ticking the right boxes? Better yet, have you even chosen the right advertising medium?
After you've spent years perfecting your brand, product and, in the case of this article, your offer, a marketing misstep can cost you big.
Because when it comes to footfall and short-term sales response, the regular advertising rules don't apply:
Instead of slowly building share of mind in prospects you instead need to make an impact immediately
Instead of organically connecting with prospects, you need to reach your customers consistently at the touchpoints that matter
Many advertisers will try and book you straight away for long term campaigns meant for building brand. They'll find slots for you that either don't land with your customers, or present your message to them when they're not engaged.
We want that to change.
The aim of this blog is to discuss how to use advertising for boosting footfall and short-term sales response. We'll be focusing on evidence gathered by Ebiquity and other third-party researchers. You'll find examples of how real businesses have gone about driving footfall for a time sensitive deal and seen measurable results.
Alternatively, you can download all this information as a PDF and read it whenever suits!
Make an Impact - Work on your Entrance
We've all known someone who just has a great entrance. Sometimes this is down to the authority that they have over the other people in the room, other times it's to do with the amazing outfit they're wearing.
Either way, there's a lesson here for advertisers. Are you already well established and can get by on name alone? Or do you need to dress yourself up with some amazing creative to draw the eyes and ears?
Regardless, if you want your customers to know about your great deal you need to hit them hard.
If you've done any research at all into this topic than you've probably come across a few different articles explaining that you need to hear or see something multiple times before it starts to sink in. Many industries address this with ad 'frequency'. Frequency is essentially the amount of times your advert plays over a certain amount of times. Being played more results in more opportunities for your brand to be seen or heard.
However, with some advertising mediums where the costs are higher, increasing your frequency isn't a viable option. The good news here is that some advertising mediums have been shown to naturally inspire more retention.
According to the Radiocentre, those exposed to radio were 52% more likely to include a brand name in their internet searches. Likewise, 58% went online within 24 hours of exposure to a radio ad to make a related search.
That's the kind of immediate response you need.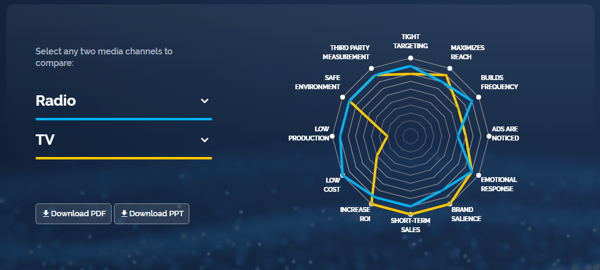 But simply saying something exists isn't enough anymore. Creative is important.
A sentiment mirrored in Nielson research. They found that across nearly 500 campaigns, creative remained king. 47% of those who contributed picked creative as the most important aspect in advertising effectiveness.
Think about advertising creative as a brand new, premium car. A great creative concept is a high-end Mercedes. It makes a statement, looks great and turns heads. But without certain elements, like a powerful deal with a limited time offer and a clear call to action, your Mercedes hasn't got the fuel to help it out the showroom.
It's a balancing act. A tightrope that our creatives walk on a daily basis.
Example:
Mozza Pizza in Glasgow faced just this problem when they came to Capital Scotland for help. They used the upcoming anniversary of Napoli's first Italian title as the context for their 'free drink' with any pizza deal. They went for up-tempo music that complimented an energetic voice over. It wasn't high concept. It knew it's audience and played the field.
We're big on measurable results. But for this one, we'd have needed a surveyors wheel to measure the queue down the road.
...And Your Exit
In the same vein of logic that you're considering your impactful entrance, make sure you're considering your exit as well.
Powerful and impactful creative will win you eyes and ears, a solid call to action will win you the wallet. In fact, when Radio call to actions were studied by OutSmart, it was found that 61% of radio encounters generated a 'do' response. Likewise, those exposed to radio were 52% more likely to include a brand name in their internet searches.
A call to action can be as simple as a unique website URL, a telephone number, a text number or your store address.
Context
You can't connect with your customers if they're not tuned in. And your customers are not tuned in all the time.
Welcome to advertising 101. What the industry calls a 'touchpoint' we might call 'rush hour' or 'hell on earth'.
Any good advertiser will align their message with key times in the day where their customers are tuned in, but a great advertiser will look to take it one step further.
They'll look to align their message with an activity, and they'd be right to do so…
According to research conducted by Differentology, brands like McDonalds, Heinz and Deliveroo saw a sales uplift of 51% when they focused on targeted their customers when they were engaged in relevant activity.
But there's a but, a big but…
The shady underside to this brilliant marketing mechanic we call context is what we (It might just be me) like to call the 'context creep.' Being too formulaic in how you handle context in your advertising can lead to just that – you're too formulaic. We've all googled something, then gone on to Facebook to find an ad for that exact product. It's a bit creepy, isn't it. Context creep.
Instead, we like to focus on context that's broad enough to be subtle but focused enough to still compel thought. For example we'd suggest rush hour, Sunday afternoon and school run times to car sellers who want to advertise on radio. Why? Well because those are the times they're sat in their cars thinking about an upgrade.
In fact, we've discussed context and radio advertising in great detail in one of previous blog post. Read it here.
Radio, according to Ebiquity:
"Is the most flexible medium as it can be used to target audiences by geography, demographics, context, time of day, day of week and addressability for listeners on connected devices"
Consistency (Without The Cost)
I know what you're thinking.
Making a big impact consistently must surely mean I need a big budget.
Wrong.
Mediums like out of home and radio have, for a long time, delivered low cost audience per thousand. Radio, according to Ebiquity, delivers an average CPT (cost per thousand listeners) of £1.54. Out of home delivered an average CPT of £3.03.
But that's just for the average price of airtime or advertising space itself, what about the cost of production?
According to the advertising decision makers interviewed by Ebiquity, radio production costs only accounted for 2.7% of all media cost. Take this with a pinch of salt. Your budget will change depending on your marketing objectives but, in terms of short terms sales response campaigns (which won't run for extended periods of time), the information provided here should prove that you can advertise your promotion without breaking the bank.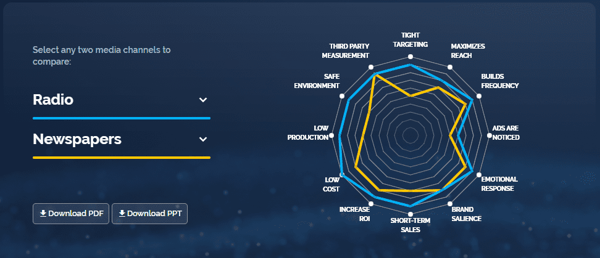 Picking the Right Medium

So far, we've outlined the core components of an advertising campaign that intends to provide a short-term sales uplift. For the sake of a well-rounded discussion, I'll list them below:
The Components of a Short-Term Sales Campaign:
Impactful creative
Clear call to action
Targeting
Consistent coverage of key touchpoints with a focus on context
Low cost production and audience delivery
But which advertising medium delivers on all of these aspects?
Based on a lot of the data used in this blog (Ebiquity and beyond) it's a toss up between TV and Radio.
TV shines through for salience and reach, and Radio delivers on targeting, context and low-cost production/audience delivery.
But what the data gives us quite a narrow perspective on that media.
What are you reading this blog on? Am I in your palm? On your lap?
Your customers are armed to the teeth. They've got an arsenal of devices, a multitude of media. They're everywhere and nowhere.
Take retail for example:
Based off Ebiquity's normative data, retail sector brands that advertised on radio saw £3.01 profit return from £1 spend.
But that ROI data was based on Radio as a primary media. Those retailers were probably running PPC advertising on Google, paid social and remarketing.
But the reasons those advertisers chose radio as their primary mode of advertising still ring true.
Our advice? Whatever medium you choose make sure you're focusing on creating contextual message that leverage what your customers are engaged with. The sales uplift seen in a short time frame is unanimous across industries.